Musk Says Humans Can Download Their Personalities, Memories Into Tesla's Humanoid Robot Optimus
KEY POINTS
Optimus is a humanoid robot
It is the upcoming product from Tesla following its popular electric vehicles
Musk shared more details about Optimus' possible functions
Tesla CEO Elon Musk said in January that the electric vehicle maker's upcoming humanoid robot, Optimus, also known as the Tesla Bot, could help solve the labor shortage problem in the U.S. but he has now revealed that humans "could download the things that we believe make ourselves so unique."
Following the opening of the new Tesla Gigafactory in Berlin, the tech billionaire shared some details of the company's "most important product development" it is doing this year, the humanoid robot Optimus. In a recent conversation with Axel Springer CEO Mathias Döpfner via Business Insider, Musk was asked about humanoid robots, which he confirmed: "are happening."
During the conversation, Musk was asked about the possibility of a future where human brain capacity could be downloaded into an Optimus. To which the tech billionaire replied, "I think it is possible."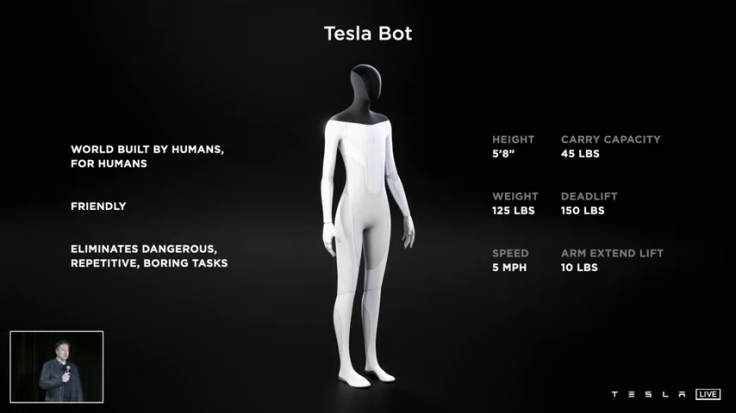 He further said, "We could download the things that we believe make ourselves so unique. Now, of course, if you're not in that body anymore, that is definitely going to be a difference, but as far as preserving our memories, our personality, I think we could do that."
The Tesla CEO also offered a timeline of the humanoid robot's production during the conversation. "I think we will have something pretty good at the prototype level this year, and it might be ready for at least a moderate volume production toward the end of next year," he told the Axel Springer CEO.
The humanoid robot was unveiled in August 2021 during the Tesla AI Day. Musk said at the time that the humanoid robot "has the potential to be more significant than the vehicle business over time."
Beyond Optimus' use in Tesla factories, the tech billionaire also explained the broader use of the upcoming humanoid robot. "Optimus is a general purpose, sort of worker-droid. The initial role must be in work that is repetitive, boring, or dangerous. Basically, work that people don't want to do," he told Döpfner.
Musk was also asked about the design of Optimus, particularly why it is bipedal and looks like a human being. "Humanity has designed the world to interact with a bipedal humanoid with two arms and ten fingers. So if you want to have a robot fit in and be able to do things that humans can do, it must be approximately the same size and shape and capability," he explained.
© Copyright IBTimes 2022. All rights reserved.
FOLLOW MORE IBT NEWS ON THE BELOW CHANNELS