Muslim Protesters Clash With Police In Sydney As Obama Grapples With Middle East Unrest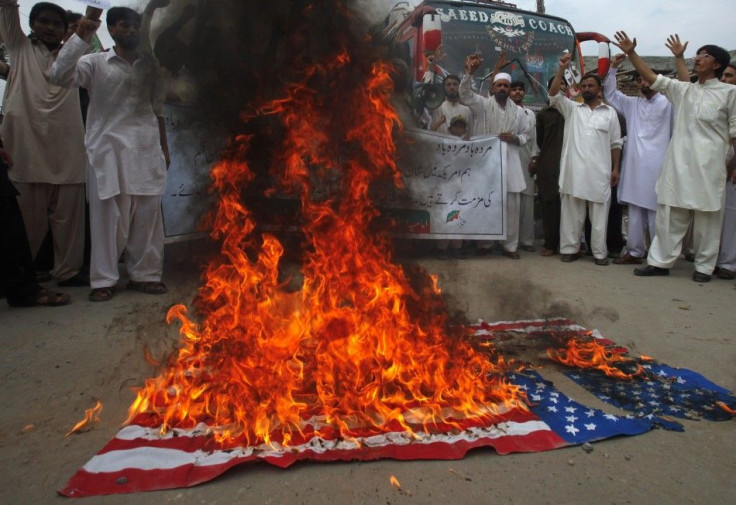 The violent protests set off across the Islamic world by an offensive video spread as far as Sydney, Australia, Saturday as police clashed with hundreds of angry demonstrators.
What started with roughly 200 protesters quickly grew into a mob of 500, surprising Sydney shoppers and forcing police to unleash pepper spray outside the U.S. Consulate, according to CBS News. Rioters threw garbage, bottles and shoes at the lines of police, who returned the assault with police dogs and capsicum spray.
"We are defending our Prophet Mohammed, we are defending His honor," one unidentified protester told CBS.
CNN reported that the protestors carried signs reading "Obama, Obama, We Like Osama" and "Behead All those Who Insult the Prophet."
In his weekly address, President Barack Obama admitted to Americans that the "images on our televisions are disturbing."
"But let us never forget that for every angry mob, there are millions who yearn for the freedom and dignty and hope that our flag represents," Obama said.
In Sydney, dozens of ambulances treated people affected by the pepper spray and for other non-life threatening injuries as a local Muslim leader tried to settle the crowd. Muslim leaders in the state of Victoria condemned the protests, calling them "abhorrent," according to the Herald Sun of Melbourne.
"While it is abhorrent that individuals should disrespect Prophet Mohammed, it is even more abhorrent that Muslims should defile his peaceful teachings by acting in such a vile manner.
"Inflammatory films or provocative actions such as burning the Quran are ... activities by bigots who are the fringe of society. They do not represent the feelings of (most) ... non-Muslims towards Muslims," spokeswoman Shereen Hassan told the Australian newspaper.
"These people are best ignored or their offensive and inaccurate ideas countered by rational and factual ones expressed in a peaceful manner, as encouraged by our religion."
This outburst is just the latest in a string of international protests that broke out after the YouTube trailer for the U.S.-produced film "Innocence of Muslims" was publicized and apparently set off the attack in Benghazi, Libya, that killed four Americans, including the American ambassador J. Christopher Stevens, on Tuesday night.
Islamist extremists were known to have briefly taken control of a base in Egypt's northern Sinai Peninsula, although CNN reported that security forces regained control of that area with the use of tanks. Police patrolled the streets Saturday in Cairo, where thousands protested earlier in the week, while workers cleaned the streets and local businesses that had been affected.
On Friday, AP and Reuters reports detailed a 5,000-person protest in Khartoum, Sudan, that centered around the British and German embassies. Iraq, Jordan, Kashmir and Lebanon also are known to have seen incidents, and the number of countries affected by the unrest is estimated to exceed 20.
The New York Times reported Saturday that the White House views the current eruption as a sign of things to come in the Middle East. The large-scale protests could be a precursor to a longer period of social and political unrest, one that Obama might struggle with as he tries to implement his foreign policy. The questions are especially pressing as the November election nears while the situation in the Middle East looks to be more serious by the day.
© Copyright IBTimes 2023. All rights reserved.