Muslim Shariah Law 2015: Indonesia's North Aceh District Bans Unmarried Men, Women From Riding Motorcycles Together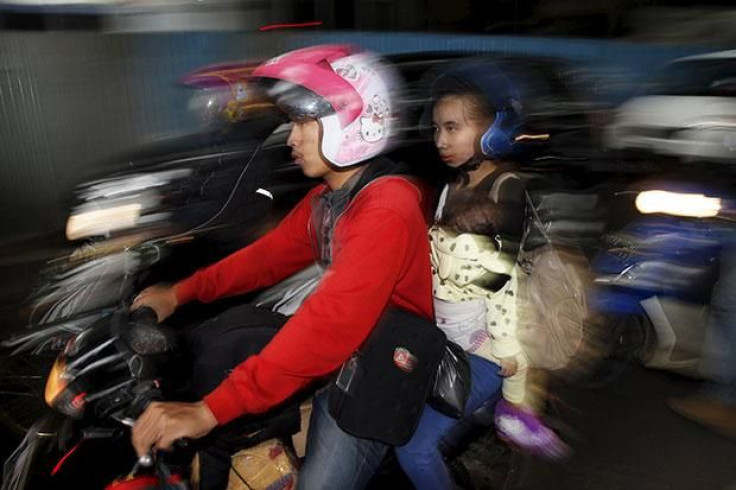 A local government in western Indonesia has banned unmarried men and women from riding together on motorcycles, reports said. Lawmakers in the North Aceh regency in Aceh province said shared motorbike rides between mixed sexes could arouse behavior deemed sinful under Islam's Shariah law.
"Unmarried people sitting closely together on a motorcycle is clearly against Islamic Shariah as it could lead to sinful acts," Fauzan Hamzah, a member of the regency's legislature, told Agence France-Presse Monday. "We will make efforts so that deeds which can lead to sin are eliminated gradually in North Aceh district."
Provincial parliaments as well as district parliaments in Indonesia wield the authority to pass their own Islamic bylaws. Aceh, at the northern tip of Sumatra, is the only province in the Muslim-dominated country that governs by Shariah law as part of a 2005 peace agreement, which ended a three-decadelong separatist movement.
Lawmakers in the conservative province have already approved a series of strict regulations citing Shariah, including an anti-gay law that punishes anyone caught having gay sex with 100 lashes. Gambling and drinking are also punishable by caning in Aceh province.
The ban on shared motorbike rides will affect more than 500,000 people in North Aceh. The new legislation also includes the required reading of the Koran each night, the separation of male and female students in school, and a ban on live music performances.
"What we do now will be just like what happens currently in traditional Islamic boarding schools," Hamzah told Reuters Monday. "I hope this policy won't only be implemented in the North Aceh regency, but in the entire province."
It's not yet known how unmarried couples in North Aceh will be punished if caught riding a motorbike together, AFP said. Hamzah listed a number of punishments, ranging from a formal reprimand to fines and banishing people from their villages, all of which could be applied to the new regulations.
The ban is scheduled to take effect in one year. Reuters said the sanctions were approved in North Aceh last week and were submitted to the Aceh provincial government for approval. "I believe there won't be any obstacles [to this proposed law] because the majority of people support it," Hamzah told Reuters.
© Copyright IBTimes 2023. All rights reserved.