Rodrigo Gularte, Brazilian Drug-Trafficking Convict Executed By Indonesia, Was Unaware Of Execution Until Last Minutes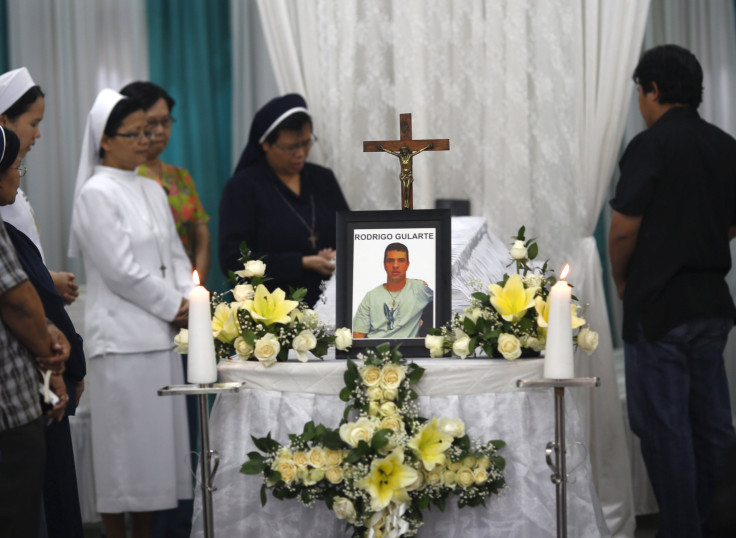 Rodrigo Gularte, a Brazilian drug-trafficking convict who was executed by an Indonesian firing squad shortly after midnight on Wednesday, was unable to comprehend the sequence of events until the very end, a priest who counseled him said Thursday, according to reports. Gularte, and seven other convicts including two Australian nationals from the Bali Nine ring, were executed over drug-related offenses.
Father Charlie Burrows, who ministers to prisoners in Cilacap where the executions took place, reportedly said that his attempts to explain to Gularte for three days that he would be executed soon were in vain. Brazil had made repeated pleas for Indonesia to commute his sentence on humanitarian grounds, citing his mental illness, as doctors had diagnosed the 42-year-old with paranoid schizophrenia and bipolar disorder.
"He was hearing voices all the time," Burrows told Australia's ABC radio on Thursday, according to the Guardian. "I talked to him for about an hour and a half, trying to prepare him for the execution. I said to him, 'I'm 72 years old, I'll be heading to heaven in the near future, so you find out where my house is and prepare a garden for me.'
"But when they took [the prisoners] out of the cells … and when they put these bloody chains on them, he said to me, 'Am I being executed?' " Burrows reportedly said.
Brazilian President Dilma Rousseff had made personal appeals on Gularte's behalf to Indonesia, and said, after the execution, that her country was shocked by the second execution of a Brazilian in Indonesia in three months.
Indonesian President Joko Widodo had rejected pleas from several countries and rights organizations, stating that the country, which has one of the world's toughest laws against drug offenses, wanted to send a strong message to criminals.
© Copyright IBTimes 2022. All rights reserved.
FOLLOW MORE IBT NEWS ON THE BELOW CHANNELS