Myla Sinanaj Pregnant? Kris Humphries Could Be A Father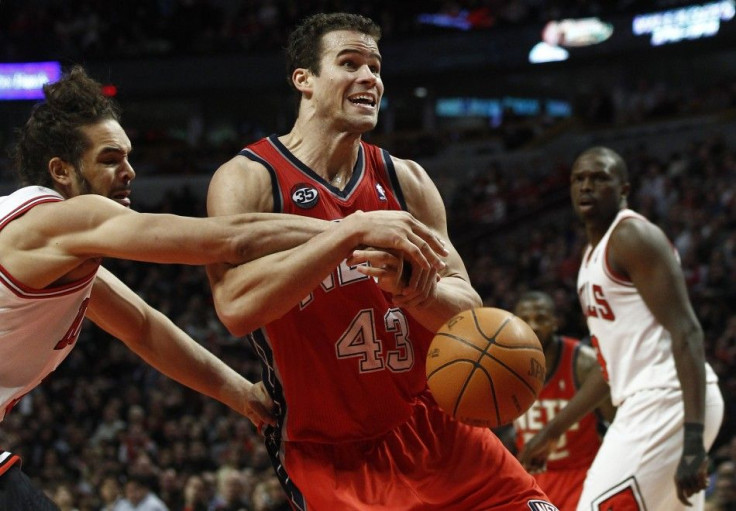 Kris Humphries could be a daddy in the near future after his ex-girlfriend posted an obscure tweet that has lead people to believe that she is pregnant- - as if the Kim Kardashian 72-day marriage drama couldn't get any juicier.
Myla Sinanaj, 25, has insinuated via Twitter that she was dating the New Jersey Nets player, though Humphries reps denied the claim saying they only casually hooked up, according to Gawker. On the Fourth of July she posted a cryptic tweet hinting that she was pregnant.
I can't wait to have a little boy lol sounds corny but a lil me running around dressed like his daddy? Too cute, Sinanaj wrote.
The two supposedly met on a beach in Miami, Gawker said, but TMZ claimed that the two had been dating since January and their meeting on the beach was no coincidence.
Aside from seeing Kim Kardashian's soon-to-be ex-husband and alluding that she is pregnant with his child, Sinanaj, who works at a prominent five-star hotel in New York, according to TMZ, scored a little bit of attention when she decided to say nasty things about the patriarch of the Jenner/Kardashian household, Olympian Bruce Jenner.
Bruce Jenner's face scares me- it should be on the 'Why not to get plastic surgery' poster, she tweeted.
But now that she's suffering from a broken heart, Sinanaj has resorted to tweeting about her feelings. Over the past few months she sent out posts under the user name @NYAngel24 displaying how dismantled she felt, Hollywood Life reported.
For the 1st time in my life I can say Ive physically felt a broken heart-i Swear if any1 put their hand 2 my chest ud feel it 2 #tears
The part everybody forgets is the heart that's hurting... Focus always seems on the issues.
Just keep fightin' for our lovin' baby, I'll defend it too. And if they try and tell me time is money, I'll spend it with you.
You still mean everything to me. You're just not worth the fight anymore.
I act like I don't care, but deep down I swear it kills me.
Never ignore a woman who loves & cares for you... one day you may realize you've lost the best thing that ever happened to you
It's clear that Sinanaj is devastated at not being with Kris and she has even said that she is willing to help Kim Kardashian throughout the divorce preceedings in any way that she can, Radar Online reported. She's even been subpoenaed by the queen of reality television for questioning about her involvement with Humphries, according to the site.
The lovebirds' relationship disentigrated when she exaggerated their involvement to the media, Radar Online added.
Come on Humphries, don't you know not to leave a woman scorned- - especially when you're in the middle of divorcing another one?
© Copyright IBTimes 2023. All rights reserved.
FOLLOW MORE IBT NEWS ON THE BELOW CHANNELS