NAACP Chicago Protest Update: President Cornell Brooks And Nine Others Arrested While Protesting Laquan McDonald Shooting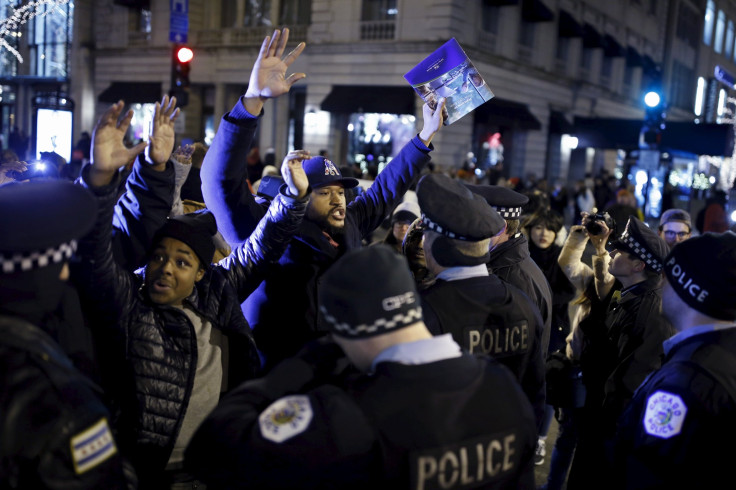 The president of National Association for the Advancement of Colored People (NAACP) was arrested on Monday along with nine other people demonstrating against the murder of Laquan McDonald, a black Chicago resident who was shot 16 times by a white police officer in October 2014. NAACP President Cornell Brooks tweeted on Monday that he had been arrested with a group of "young seminarians," and Chicago police confirmed to the Chicago Sun-Times that they issued 10 citations during a "small gathering" at city hall in Chicago.
The NAACP tweeted a short while later that Brooks and the other demonstrators had been released.
Monday's arrests came after days of protests by those demanding action from Chicago officials and the city's police department in response to the killing of 17-year-old McDonald.
Last Tuesday, officer Jason Van Dyke was charged with first-degree murder, marking the first time a Chicago police officer has been charged with that crime for an on-duty fatality in nearly 35 years, the Chicago Tribune reported. Police also released video footage of the shooting, including four dashcam videos, under the Freedom of Information Act.
A judge set Van Dyke's bond at $1.5 million, and ruled he must meet at least 10 percent of that amount to make bail, Reuters reported. The investigation has been ongoing since last year, and attorney Anita Alvarez said she decided weeks ago to charge Van Dyke, but was waiting until federal authorities completed their part of the investigation, the Chicago Tribune reported.
Protesters have continued demonstrating over the past week, calling for action and criticizing the length of time it took for police to release the video of McDonald's shooting. Over the weekend, thousands of demonstrators blocked Chicago's Magnificent Mile on Black Friday to draw attention to their cause.
"Don't shop on Black Friday, and go down to Michigan Avenue and sit down in the street and block the street on Michigan Avenue with civil disobedience peacefully, and say, 'Business as usual can't go on while our children are dying,'" the Rev. Michael Pfleger said during his sermon Nov. 22, DNAInfo Chicago reported.
After demonstrators were released on Monday, Brooks and the NAACP tweeted saying they would continue pushing for justice for McDonald and others like him who have been killed by police.
© Copyright IBTimes 2023. All rights reserved.
FOLLOW MORE IBT NEWS ON THE BELOW CHANNELS