Narendra Modi Pushes India To Up The Ante In Fighting With Pakistan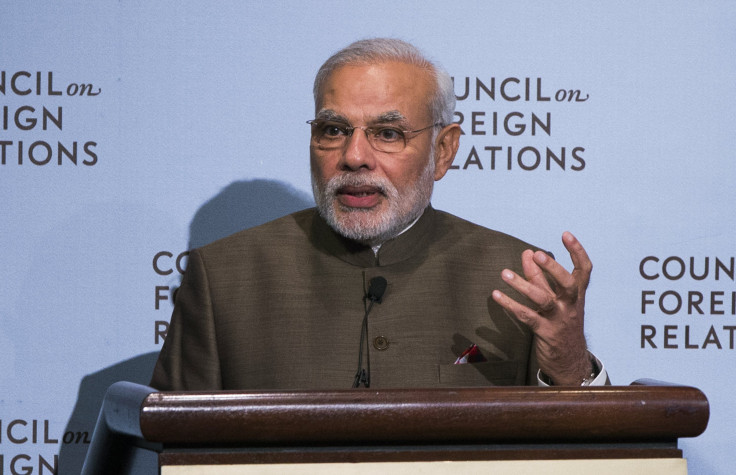 (Reuters) - To judge from the shrill outrage of India's TV news channels, the past week's bloody clashes along the border dividing Kashmir are all Pakistan's fault: one network has been plugging the Twitter hashtag #PakBorderDare.
However, military officers in both countries and officials in New Delhi say the violence that has killed nearly 20 civilians escalated because of a more assertive Indian posture under the new government of nationalist Prime Minister Narendra Modi.
"The message we have been given from the prime minister's office is very clear and precise," said a senior Indian Home Ministry official. "The prime minister's office has instructed us to ensure that Pakistan suffers deep and heavy losses."
In his first extensive comments on the violence, Modi told a political rally on Thursday - when 1,000 Indian mortars rained across into Pakistan - that "it is the enemy that is screaming".
"The enemy has realized that times have changed and their old habits will not be tolerated," he said.
The exchange of mortar and gunfire across a populated border area of Jammu, in the lowlands of Kashmir, has been India's most serious brush with Pakistan in a decade.
Almost 20,000 Indian civilians have fled their homes to escape the fighting, taking refuge in schools and relief camps.
The guns fell quiet on Friday, hours before the Nobel committee named an Indian child rights crusader and Pakistan's teenage education activist Malala Yousafzai as this year's Peace Prize winners. But heavy firing resumed on Saturday And continued into the early hours of Sunday.
Modi's robust approach towards Pakistan, supporters say, is aimed at emphasizing India's superior strength and making Pakistan's military think twice before firing across the border.
It is a strategy he also used to stand up to India's larger neighbor, China, during a border standoff between several hundred Indian and Chinese troops on the Tibetan plateau that coincided with President Xi Jinping's visit to New Delhi last month.
But the new stance risks more violence in the Himalayan region of Kashmir, already one of the world's most volatile fault lines, and has eroded a border truce that has largely held between India and Pakistan since 2003.
The nuclear-armed rivals have fought two of their three wars since independence in 1947 over Kashmir, which is divided between them and claimed in full by both.
Since Modi's election victory in May, military commanders have been encouraged to step up border patrols and retaliate with more force if they come under attack. New Delhi has insisted there can be no talks with Pakistan unless it ends shootings and pushing militants into the Indian side of Kashmir.
"This is what we feared would happen if Modi came to power," said Ikram Sehgal, a former Pakistani military officer and chairman of one of the country's largest security companies.
"This could easily escalate into something that won't be good for Pakistan or India."
RISKY GAMBLE
India may be gambling that Pakistan can ill afford to inflame hostilities in Kashmir while its army is engaged in a full-blown offensive against jihadi militants close to Afghanistan.
But the stakes are also high for India.
An editorial in the Indian Express on Friday called for cooler heads, saying further escalation would damage India's reputation as a responsible nation and attractive investment destination, and could rekindle a separatist insurgency on its side of Kashmir.Officials say India's new policy is being orchestrated by Ajit Doval, the country's national security adviser, a decorated former intelligence official renowned for his role in dangerous counter-insurgency missions. He has long advocated tough action against Pakistan-based militant groups.In conversations with Reuters as head of a right-wing think tank in New Delhi before he joined the new government, Doval said India must lay down core security policies, one of which was "zero tolerance" for acts of violence.
In August, after days of cross-border firing between India and Pakistan, Doval attended a meeting at the Home Ministry along with the head of the para-military Border Security Force (BSF) and a decision was taken to give a free hand to the ground commanders in Jammu, a top security official in the region told Reuters. Until then, the BSF, which guards the Jammu section of the border with Pakistan, had complained that instructions on how to respond to provocations were unclear.
"It is a very tough stand that our top bosses want us to take against Pakistan and the tone is very different from the previous government," said the Home Ministry official.
"The previous government indulged in lip service. Publicly the former home and defense minister would showcase an assertive stand against Pakistan but actually neither BSF nor the army was given a free hand."
A spokesman for India's defense ministry did not respond to requests for comments.Pakistani military leaders say they have been taken aback by the level of aggression of Indian forces over the last week.
At a time when the Pakistan army is combating militants in the tribal areas in its northwest they do not want the distraction of battling India on its eastern flank, they said."India is deliberately putting pressure on Pakistani security forces by opening this new front," said a senior Pakistani military official posted on the border. "The message from India is clear: 'We will teach you a lesson.'"Indians in the border areas of Kashmir, who have lived through decades of cross-border firing, said they themselves had noticed a change in tactics by the Indian forces. "Pakistan fires one, our boys fire six back," said Atma Ram, 71, who was standing about 300 meters (yards) from the electrified fence that separates the two countries in the Suchetgarh area near Jammu. "They are giving a response we should have given before."
(Additional reporting by Sanjeev Miglani in ARNIA, India and by Fayaz Bukhari in SRINAGAR, India; Writing by Andrew MacAskill; Editing by John Chalmers, Frank Jack Daniel and Raju Gopalakrishnan)
© Copyright Thomson Reuters 2023. All rights reserved.