Narendra Modi's BJP Party Loses Key Elections In India's Bihar State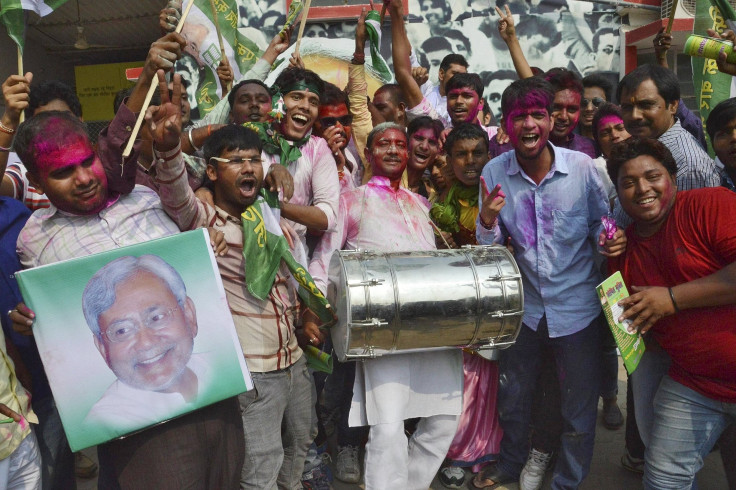 Indian Prime Minister Narendra Modi sent out a message Sunday on Twitter that brought an end to a long and viciously fought election campaign in Bihar, one of India's poorest states. A so-called grand coalition linked to the Congress party, which suffered a historic defeat by the BJP in the 2014 national elections, won a convincing victory, according to reports.
The defeat is the latest setback to Modi's Bharatiya Janata Party, which has been widely criticized in recent weeks over a range of issues. Over the past few weeks, Modi spoke at over two dozen events in the state drumming up support for his party, according to the BBC, underlining the importance of the election's outcome to the right-wing BJP in a state riven by caste issues and poverty.
"Had a telephone conversation with Shri @nitishkumar & congratulated him on the victory," Modi said, on his Twitter feed. Nitish Kumar, the incumbent chief minister, tweeted: "Just received a phone call from the Prime Minister congratulating me."
Kumar, 64, was credited with providing Bihar -- which has a population of over 100 million people and suffered from poverty, crime and unemployment, and where approximately a third of the population survives on $1.9 a day -- with much-needed infrastructure and economic development, but was later criticized for losing his way in his second term, according to reports.
On the other hand, Modi's BJP has recently suffered a hit to its image over his administration's performance on a range of issues. Along with growing concerns over a delay in economic reforms, the BJP is facing controversy over a ban on beef, as well as a national debate on a perceived crackdown on press freedom, after several writers and artists returned their national awards protesting the "growing climate of intolerance," al Jazeera reported, following the killings of two intellectuals widely believed to have been targeted for their secular views.
"What has Mr Modi done since becoming prime minister? All talk, no action," a local in Bihar told the BBC.
Moody's Analytics warned that Modi's inaction on issues like a ban on the consumption of beef (cows are sacred to Hindus, who dominate Modi's BJP) could derail his government's reform plans. "Modi must keep his members in check or risk losing domestic and global credibility," Moody's Analytics said, according to reports.
"The BJP has never supported such incidents," the prime minister told local reporters in October, after a Muslim man was lynched for allegedly eating beef, calling the incident "sad" and "unwelcome."
Kumar reportedly seized the beef-ban controversy to accuse the BJP of siding with the state's majority Hindus, as he and his coalition partners -- including the Congress and two regional parties (including one led by a former political rival) -- sought to win in a state where the BJP has never won an outright majority.
"Narendra Modi won (national elections) in 2014 because he spoke only of development, but now his party and ministers try and defend killers of people eating beef in India. This won't work in Bihar," the BBC cited a local as saying.
With the defeat in Bihar, the challenges for Modi to push through crucial reforms are only expected to grow as the BJP's opponents gain power in powerful state governments as well as seats in the parliament's upper house, Agence France-Presse (AFP) reported.
"This election was loaded against us. It is a defeat of the arithmetic," BJP spokesman GVL Narsimha Rao told India Today TV, as cited by AFP, adding: "Our PM has delivered even in this election. It is because of his appeal that we managed a creditable performance."
© Copyright IBTimes 2023. All rights reserved.