NASA To Host Public Broadcast, Teleconference Event For Visible Comet NEOWISE
KEY POINTS
NASA will hold a live event for comet NEOWISE
The event will feature experts from NASA
The comet will reach its closest distance to Earth this month
NASA announced that it would host a public broadcast and live teleconference event to highlight the various features of the passing comet called NEOWISE. Through the event, viewers will be able to ask the agency's experts regarding various details about the comet.
According to NASA, the public broadcast will be held on Wednesday at 3 p.m. EDT. It will be streamed live through various platforms including Facebook Live, Twitch, YouTube, LinkedIn, Periscope and USTREAM. NASA will also live stream the event through its website.
For those who would like to ask questions about the comet, they may do so via Twitter while using the hashtag #AskNASA. They can also leave a comment in the chat section of NASA's Facebook, Periscope and YouTube videos.
After the public broadcast, NASA will hold its teleconference event for media members at 4 p.m. EDT on Wednesday. It will be streamed through the NASA Live website.
NASA's live broadcast will feature different experts, including Lindley Johnson, the head of the agency's Planetary Defense Coordination Office. Scientists involved in NASA's Near-Earth Object Wide-field Infrared Survey Explorer will also join the event.
As mentioned earlier, the focus of the event will be comet C/2020 F3, which is also known as NEOWISE. It was first discovered by NASA's Wide-Field Infrared Survey Explorer (NEOWISE) telescope on March 27.
This comet is currently traveling across space and is about to reach its closest distance to Earth, which is expected to happen on July 22. During this time, the comet will be about 64 million miles away from the planet.
As the comet moves closer to Earth, its brightness and visibility are expected to increase. Currently, comet NEOWISE can be spotted in the sky without the use of special equipment. According to NASA, the comet can be spotted in the northern portions of the horizon this month.
"Through about the middle of the month, the comet is visible around 10 degrees above the northeastern horizon (the width of your outstretched fist) in the hour before dawn," the agency stated. "From mid-July on, it's best viewed as an evening object, rising increasingly higher above the northwestern horizon."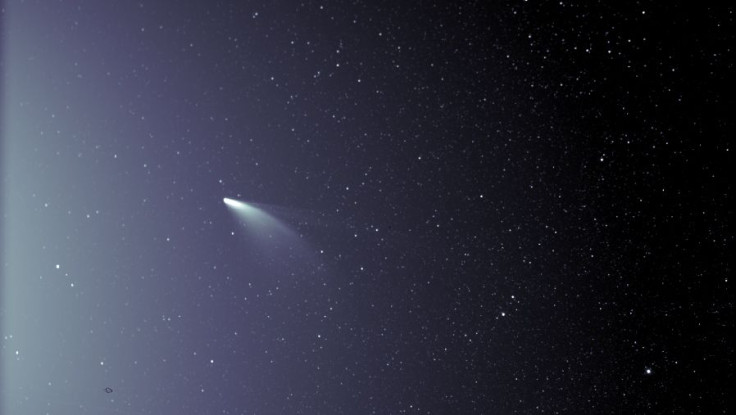 © Copyright IBTimes 2023. All rights reserved.
FOLLOW MORE IBT NEWS ON THE BELOW CHANNELS