NASA Showcases Haunting Satellite Photo Of Bahamas For Earth Day
KEY POINTS
NASA shared a satellite image of the ocean in the Bahamas
The image was captured by Landsat 7
Ocean currents sculpted the underwater sand in the Bahamas
In celebration of the 50th anniversary of Earth Day, NASA shared a stunning photo of the Bahamas taken from space. The image showcases how the ocean tides and currents sculpted the sand and seaweed beds to create natural patterns.
The subject of NASA's photo is the sand sculpture beneath the ocean in the Bahamas. The photo was taken from space by NASA's Landsat 7 satellite.
Landsat 7 is the seventh satellite deployed under the Landsat program. It was officially launched by NASA on April 15, 1999 through a partnership with the U.S. Geological Survey. Landsat 7's mission was only supposed to last for five years but as of last week, the satellite celebrated its 21st year in space.
The satellite's main mission is to capture photos of Earth from orbit. These images are used to create a global archive of clear and unobstructed photos of various features and locations on Earth. Many of these images are showcased in NASA's Earth Observatory publication.
As part of NASA's Earth Day celebrations on April 22, the space agency shared various satellite images of different regions on Earth captured by Landsat 7. One of them is the natural sand sculptures underneath the ocean in the Bahamas.
The photo, which features a false-color image, looks like an abstract painting at first glance. As noted by NASA, the stunning photo, which also appears hauntingly beautiful due to its dark and jagged streaks, features the natural sand formations made by ocean tides.
The subject of the photo is mainly composed of sand and seaweed beds that have been shaped and sculpted by the movements of underwater tides and currents. According to NASA, this process is similar to how the sand dunes in the Sahara Desert are formed by strong winds.
"The image was taken by the Enhanced Thematic Mapper plus (ETM+) instrument aboard the Landsat 7 satellite," NASA explained in a statement. "Tides and ocean currents in the Bahamas sculpted the sand and seaweed beds into these multicolored, fluted patterns in much the same way that winds sculpted the vast sand dunes in the Sahara Desert."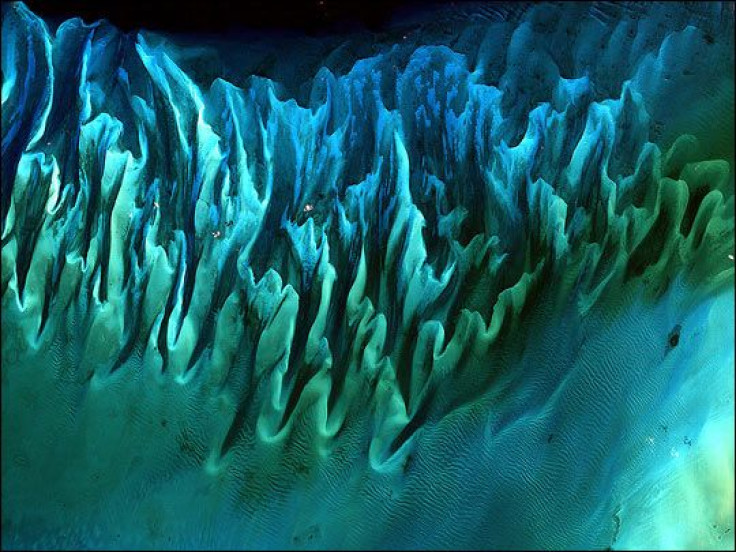 © Copyright IBTimes 2022. All rights reserved.
FOLLOW MORE IBT NEWS ON THE BELOW CHANNELS