NASA Spacecraft Captures Magnetic Reconnection In Action During Recent Solar Flare [VIDEO]
Magnetic reconnection is responsible for all explosions on the sun and occurs during solar flares and coronal mass ejections. During a recent solar flare, spacecraft were able to capture this process in action and could help scientists understand space weather.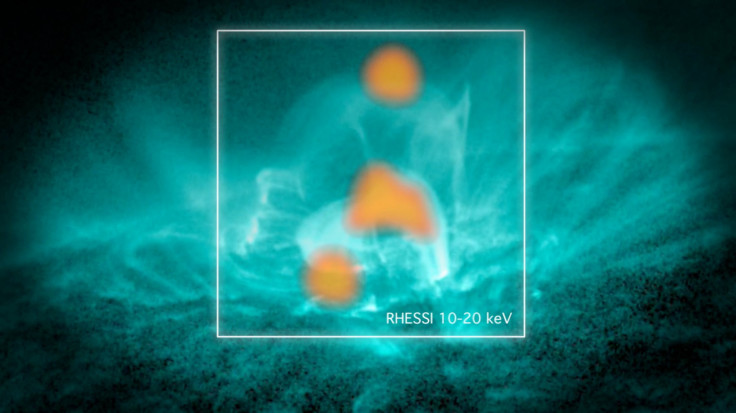 Magnetic reconnection occurs when magnetic fields join and then rearrange, according to NASA. The magnetic fields swap places, and a burst of magnetic energy is released. While magnetic fields are invisible, plasma travels along these lines, allowing scientists to follow the particles and map out the looping magnetic fields. On Aug. 11, 2012 NASA's Solar Dynamics Observatory and the Reuven Ramaty High Energy Solar Spectroscopic Imager, or Rhessi, witnessed a solar flare, and the spacecraft were able to capture magnetic reconnection in action.
Yang Su, from the University of Graz in Austria, said the latest data is just the latest part of an incomplete puzzle that explains how magnetic reconnection causes solar flares. "We have so many pieces of evidence, but the picture is not yet complete," Su said in the NASA release. Su was responsible for discovering the spacecraft-captured magnetic reconnection in action, and the research was published in the journal Nature Physics.
Magnetic reconnection has been captured in images prior to Su's research, but the images collected by SDO and Rhessi are the most complete evidence to date. In the video created by NASA, two magnetic fields can be seen joining briefly to form an "X" shape and then separating, one line of plasma particles being propelled into the space and the other line of plasma particles crashing to the sun's surface, NASA reports. Sometimes, the line of plasma that gets ejected into space escapes the sun's atmosphere and becomes a coronal mass ejection.
Su observed the process in SDO's data, and the discovery was confirmed using Rhessi. The spacecraft can measure electromagnetic radiation and create images based on that data. The Rhessi data revealed two extremely hot points above and below the reconnection point of the two magnetic fields, a known sign of magnetic reconnection, NASA reports.
"This is the first time we've seen the entire, detailed structure of this process, because of the high-quality data from SDO," Su said. The new evidence will lead to a better model of magnetic reconnection, how fast the process happens and the energy involved in the process, NASA notes. The newer models will help scientists observe other stars, as magnetic reconnection occurs in stars throughout the universe, and can help create better advanced warning systems for space weather. Coronal mass ejections and solar flares can send particles and radiation toward Earth. While the radiation cannot get through the Earth's atmosphere, space weather can affect satellites and radio communication.
The video of the magnetic reconnection can be viewed below.
© Copyright IBTimes 2023. All rights reserved.