Nationalist Svoboda Party Supporters Clash With Police In Ukrainian Capital Of Kiev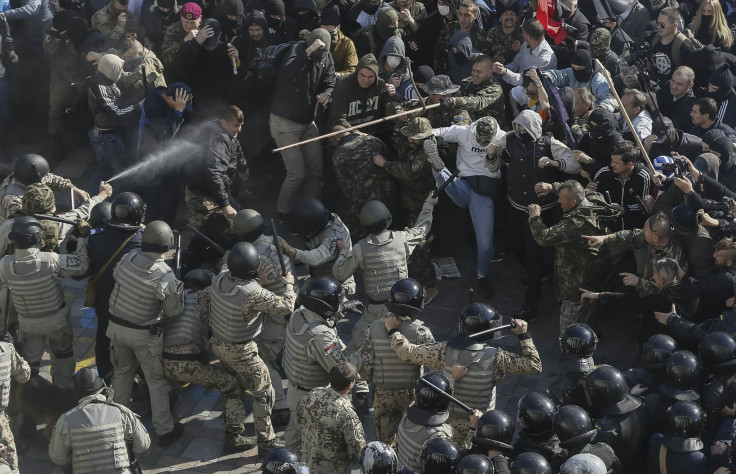 Supporters of Ukraine's nationalist Svoboda party and security forces clashed near the country's parliament in Kiev on Tuesday, Associated Press, or AP, reported. The protesters reportedly demanded that the government honor the Ukrainian Insurgent Army, which fought for Ukraine during the World War II, as national heroes.
The government has so far refrained from doing so because of the movement's alleged collaboration with the Nazis and their involvement in the killing of Ukrainian Jews under German occupation. The extreme right-wing Svoboda party has been accused of fascism in the past.
The clashes come on the day the Ukrainian parliament approved the appointment of former National Guard chief Stepan Poltorak as the country's new defense minister -- the fourth reshuffle since the Russian annexation of the Black Sea Island of Crimea in March, according to media reports.
Poltorak takes over from Valeriy Heletey, who had reportedly come under severe criticism for his handling of military operations in eastern Ukraine.
"I tasked him with creating a powerful system of defense of Ukraine and revising the procurement and logistics system of the troops, including with regard to positive experience obtained by the National Guard of Ukraine," Ukraine's President Petro Poroshenko said on Tuesday, according to a report by RIA Novosti.
Addressing the parliament, Poltorak said that he would work toward strengthening the country's defense forces to ensure peace in the strife-torn east.
"Ukraine needs peace. Contemporary and well-prepared, mobile and well-equipped armed forces are the guarantor of that peace," he said, according to a Reuters report.
Despite a fragile cease-fire between Ukrainian government forces and pro-Moscow rebels, eastern Ukraine has witnessed sporadic clashes, according to media reports.
The United Nations said, in a report released on Oct. 8, that of the 3,600 people killed since the start of the conflict, nearly 330 fatalities were recorded since the start of the cease-fire on Sept. 5.
© Copyright IBTimes 2023. All rights reserved.