Native American Youth 2014: Obama To Announce Generation Indigenous Program To Improve Young American Indians' Education, Poverty Situations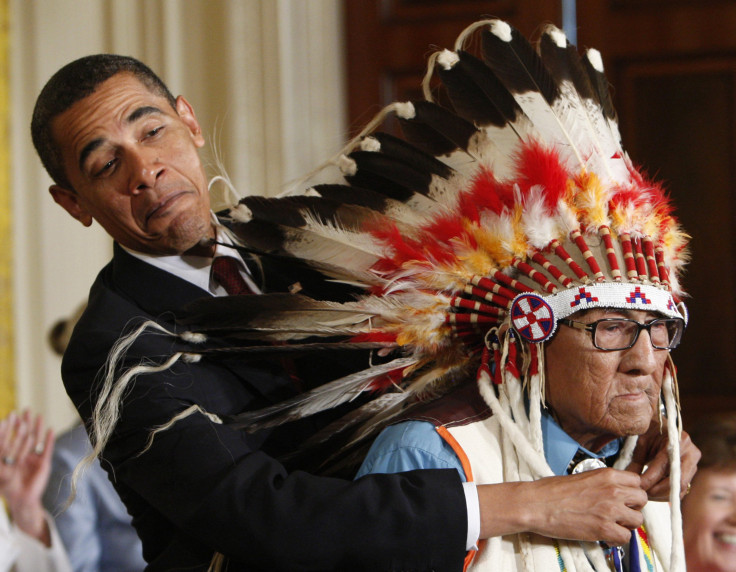 President Barack Obama is directing his attention toward better opportunities for young American Indians. Obama was expected to announce Wednesday a new initiative called Generation Indigenous, which aims to improve Native Americans' college preparation, leadership skills and career prospects. The program was due to be revealed before representatives of 566 federally recognized tribes at the White House Tribal Nations Conference, the Associated Press reported.
The impact could be huge: The 1.2 million American Indian and Alaska Native people under age 25 comprise 42 percent of the single-race population, according to the National Congress of American Indians. But about a third of them live in poverty, and only about two-thirds graduate from high school.
Generation Indigenous will try to remove the barriers that likely lead to those statistics. It will fund grants and create an online portal where young people can seek out peer support, McClatchyDC reported. Obama's cabinet will communicate directly with young Native Americans, and a daylong White House Tribal Youth Gathering, the first of its kind, will commence in 2015.
"People who grow up in a poverty culture sometimes need guidance, need values, need a little bit of structure," activist Chase Iron Eyes told the AP. "Through some of the things the administration is doing, it looks like they're trying to do that.... Youth -- they just need the right tools, and maybe they can empower themselves."
It's unclear how much Generation Indigenous will cost, though nonprofits and charitable organizations were expected to help fund it.
Also released Wednesday was a report on Native American youth that recommends the White House help tribes better manage their reservations' school systems. The Bureau of Indian Education was in the process of being revamped, but Interior Secretary Sally Jewell told the AP they "have to get creative" with money because it would cost $1 billion to fix up schools in disrepair. The Department of the Interior is also trying to expand its science, technology, engineering and math programs while preserving traditional languages, Indian Country Today reported.
© Copyright IBTimes 2023. All rights reserved.