NATO To Begin Huge Exercise In Baltic Sea That Will Include Georgia, Sweden And Finland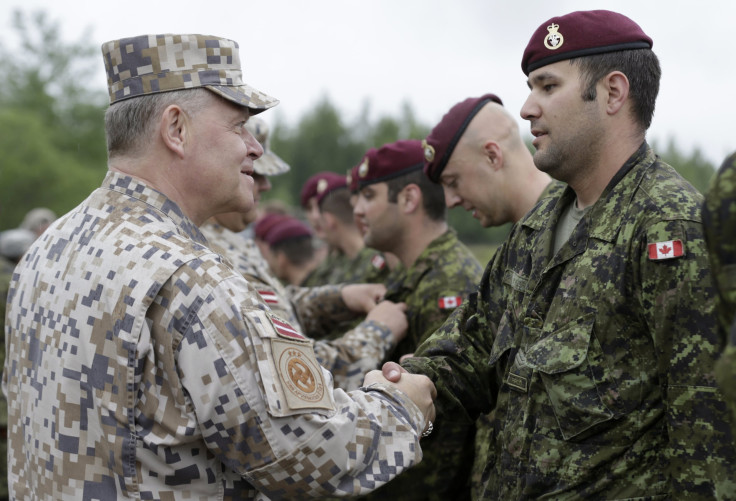 Fourteen NATO members plus Sweden, Finland and Georgia will take part in a huge military exercise in the Baltic Sea that begins Friday. The exercise, called BALTOPS, will include 49 ships, 61 aircraft, one submarine and a combined landing force of 700 Finnish, Swedish and U.S. troops. More than 5,600 troops will be involved altogether.
"This exercise represents an important opportunity for our forces, as allies and partners, to enhance our ability to work together and strengthen capabilities required to maintain regional security," said Vice Adm. James Foggo III, commander of NATO's Naval Striking and Support Forces. "This exercise will be conducted in a truly joint environment, and I look forward to working with and learning from so many different nations and services."
BALTOPS has been running since 1971 and is not in response to any specific threat, a NATO press release states. Yet even though it's in its 43rd year, the significance and timing of this year's operation cannot be ignored. Europe and Russia are deeply divided over Moscow's decision to annex Crimea in March 2014 and its continued involvement (which Russia denies) in the eastern Ukraine conflict that has raged now for nearly 15 months. Since the annexation, Europe and the U.S. have imposed economic sanctions on Russia, and the Russian military has been conducting flights close to the airspace of NATO countries, contributing to a climate of tension not seen since the end of the Cold War.
On Thursday, a day after intense clashes between Ukrainian and pro-Russian forces in the Donbas region of Ukraine, Ukrainian President Petro Poroshenko warned that Russia may be planning an attack on its border in the contested regions.
The U.S. will lead the exercise on the ground, but NATO is responsible for organization. The participants are Belgium, Canada, Denmark, Estonia, Finland, France, Germany, Georgia, Latvia, Lithuania, the Netherlands, Norway, Poland, Sweden, Turkey, the United Kingdom, and the United States.
The exercise, which will run until June 20, is just one major multinational maneuver happening this month. Exercise Noble Jump, the first for NATO's new quick reaction force, will take place in Poland from June 9 to 19.
© Copyright IBTimes 2023. All rights reserved.
FOLLOW MORE IBT NEWS ON THE BELOW CHANNELS