NATO Officials To Discuss Iraq And Ukraine Following Kerry's Meeting With Maliki In Baghdad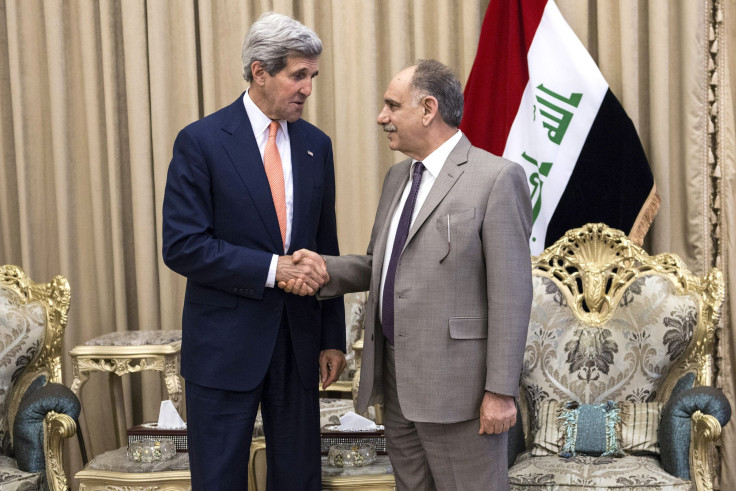 Senior NATO officials are set to assemble to discuss the ongoing crisis in Iraq following U.S. Secretary of State John Kerry's promise on Monday to help the country fight off militants belonging to the Sunni Islamist group Islamic State of Iraq and Syria, or ISIS.
Foreign ministers from NATO will begin a two-day long deliberation Tuesday to discuss solutions to the Iraq and Ukraine crises. The NATO meeting comes in the wake of a quick and aggressive move by ISIS in the last few days to grab control of large parts of Iraq, and the declaration of a five-day ceasefire in eastern Ukraine after months of violence between government forces and pro-Russia separatists.
In a surprise visit to Iraq Monday, Kerry met Prime Minister Nouri al-Maliki and conveyed Washington's willingness to help Iraq, Agence France-Presse, or AFP reported.
"This is a critical moment for Iraq's future," Kerry said, according to AFP, adding that Washington's "support will be intense, sustained, and if Iraq's leaders take the necessary steps to bring the country together, it will be effective."
Even as Kerry began his visit to Iraq, 69 detainees were killed by ISIS militants in the central city of Babil, as the group advances toward Baghdad after taking over the country's entire western border and major cities in five provinces, including cities in Anbar and Nineveh provinces, as well as border posts crossing into Syria and Jordan.
"This is a critical moment where together we must urge Iraq's leaders to rise above sectarian motivations and form a government that is united in its determination to meet the needs and speak to the demands of all of their people," Kerry reportedly told the media after his 90-minute-long meeting with Maliki, according to Time magazine, adding: "I reiterate the President will not be hampered if he deems it necessary if [political reconciliation] is not complete."
U.S. President Barack Obama has agreed to send nearly 300 military advisers to Iraq but is reportedly still contemplating allowing airstrikes in the region, as requested by Maliki.
Meanwhile, in Ukraine, government officials and pro-Russian separatists agreed to a cease-fire Monday after an earlier attempt at ending hostilities had failed on Friday.
© Copyright IBTimes 2023. All rights reserved.