Navy Officer Is Latest Chattanooga Shooting Casualty: Randall 'Randy' Smith Named As Fifth Person Killed In Attack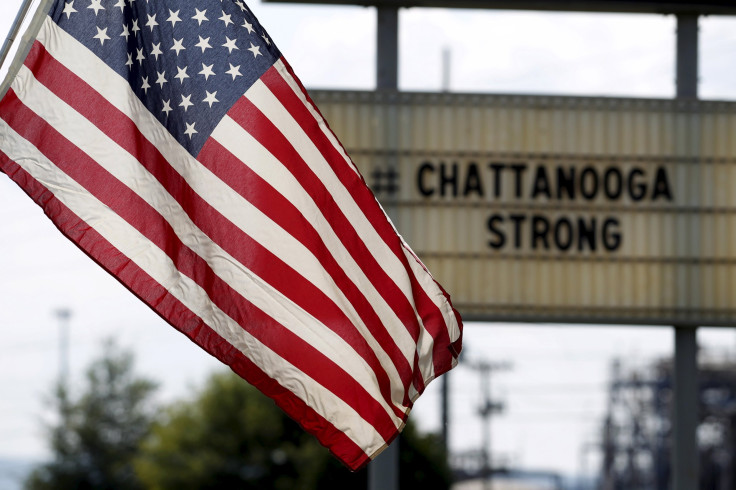 A male U.S. Navy petty officer is the latest fatality associated with the mass shooting at a military facility in Chattanooga, Tennessee, Thursday. The Navy announced that the petty officer, who it declined to identify, succumbed to wounds suffered during the incident at the Navy Operational Support Center. He died Saturday at 2:17 a.m., the Navy said.
Overall, five servicemen -- four Marines and one sailor -- perished as results of the shooting. The Navy said the sailor's name "will not be released until 24 hours after the next-of-kin process is completed."
However, the sailor was identified by the New York Daily News as Petty Officer 2nd Class Randall Smith, 24, who the newspaper said suffered extensive damage to his liver and colon in the shooting. According to the Associated Press, Smith was a reservist serving on active duty at the Chattanooga center. Smith was shot in the back, stomach and arm, his family told the Salina (Kansas) Journal. A husband and the father of three young daughters, he wanted to reassure his family after undergoing multiple surgeries, the Daily News reported.
The four Marines killed in the attack have been identified as Carson Holmquist, Thomas Sullivan, Skip Wells and David Wyatt. Law-enforcement representatives have said Mohammod Youssuf Abdulazeez, the 24-year-old man suspected of being the Chattanooga shooter, carried at least three firearms and a vest full of ammunition when he was killed in a shootout with police.
Early Saturday, Louisiana Gov. Bobby Jindal authorized the state's National Guard to arm itself to protect military facilities in the wake of Chattanooga attack, according to a statement. Oklahoma Gov. Mary Fallin has done likewise.
Federal authorities have opened what they called an ongoing terrorism investigation into the fatal shootings. "We will continue to investigate this as a terror attack until facts lead us otherwise," U.S. Attorney Bill Killian said, according to WTVC-TV in Chattanooga. "We will leave no stone unturned for the victims of this heinous act."
Officials say they have followed up on about 70 leads since Thursday as part of their investigation into the shooting, FBI Special Agent in Charge Ed Reinhold said during a press conference Friday. Reinhold declined to provide information on Abdulazeez's potential motive in carrying out the attack, saying it would be "premature to speculate."
© Copyright IBTimes 2023. All rights reserved.