Nazca Lines Surveillance To Increase After Truck Damages Ancient Archeological Wonder
After the latest incident that caused damage to Peru's famed Nazca Lines archeological site, the local government announced increased surveillance measures to safeguard the ancient monument.
A truck driver reportedly ignored warning signs around the area and drove his semitrailer over the lines in the desert which date to about 2,000 years ago. According to Peru's Ministry of Culture, "the truck left in its path deep tracks in an approximate area of 50 x 100 meters, affecting the surface of the pampa and part of three geoglyphs (straight lines)."
The driver was identified as Jainer Jesús Flores Vigo, a 40-year-old who was arrested about three hours after the incident. The truck belonged to a local trucking company, Transportes Pakatnamu SAC. The driver was charged under the country's penal code, and prosecutors asked for a nine-month sentence and a fine of 5,000 Peruvian sols (about $1,550).
A judge let him off during a hearing Monday, saying it couldn't be proved that Flores Vigo acted with intent. In his defense, the driver reportedly said he was unfamiliar with the area and that it was a mechanical problem with his vehicle that forced him off the road.
On Tuesday, a spokesman for the state-run Decentralized Culture Directorate of Ica (Ica is the region where the Nazca desert is), Johnny Isla, said monitoring the entirety of the 450 square kilometers that make up the UNESCO World Heritage Site was a difficult task, despite having hired more staff. The directorate would also start using drones to increase aerial surveillance, especially at night.
"While the Culture Ministry monitors areas with the largest concentration of geoglyphs every day, it [the site] may not be fully protected. Entry and transit are possible through valleys and streams where the archaeological area spreads out. … We believe surveillance must take place 24 hours a day. However, we are trying to implement the nocturnal one in order to cover emergencies that might arise at night," Isla reportedly said.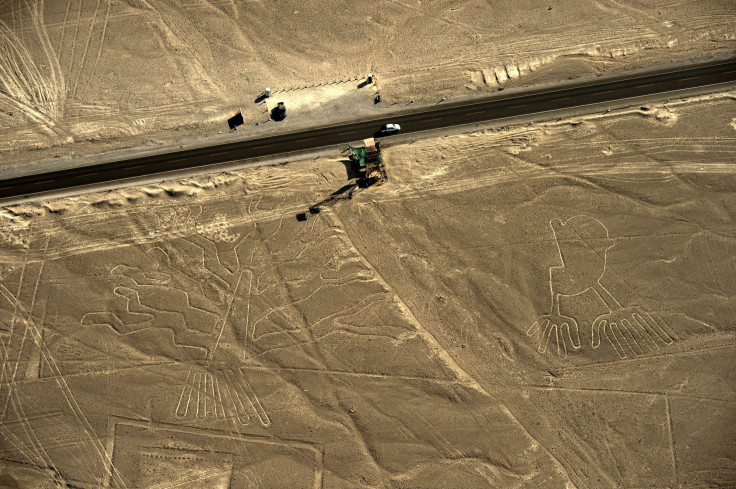 The Nazca Lines are a number of shapes etched into the Nazca desert, and the shapes are so large, they can only be made out properly when viewed from the sky. They were made by a pre-Inca civilization sometime between 1,500 and 2,500 years ago. The shapes depict animals, plants, fantastical creatures and straight lines, many of which are several lines long. It is not known how these enormous shapes were created at the time when they were, or what their purpose was.
According to UNESCO, the lines "are among archaeology's greatest enigmas because of their quantity, nature, size, and continuity. The geoglyphs depict living creatures, stylized plants, and imaginary beings, as well as geometric figures several miles long. They are believed to have had ritual astronomical functions."
In 2014, Greenpeace activists had damaged the site when they used it as a platform to post a protest message ahead of United Nations climate talks in Lima.
© Copyright IBTimes 2023. All rights reserved.