NBA Finals 2014: Spurs Operate Like A High-Level Business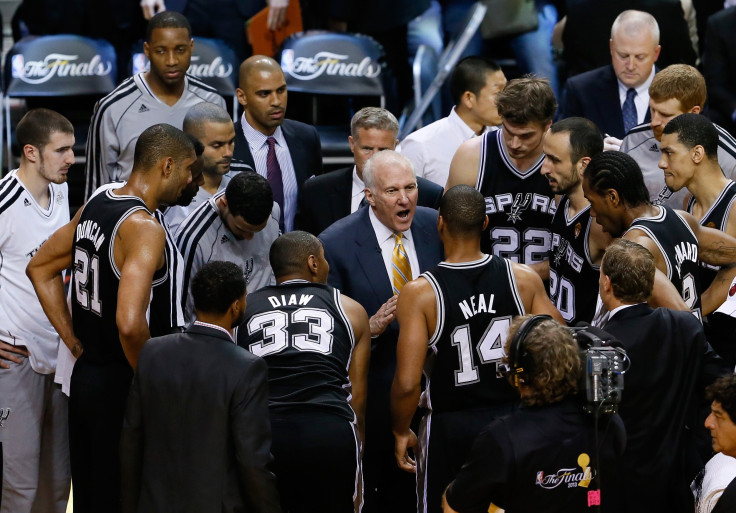 As the San Antonio Spurs enter the NBA Finals seeking a fifth championship in 16 years, it has effectively transcended sports, evolving into no less than a management exemplar, one cited by people who run businesses as a textbook case worth emulating.
Like a modern-day Ford Motor Co. (NSYE:F), the American archetype that pioneered efficient assembly, the Spurs stick rigorously to their system, achieving unparalleled quality by focusing on the fundamentals of their game.
In the vein of Steve Jobs, the Apple Inc. (NASDAQ:AAPL) founder and taskmaster who pressed for total commitment to product innovation, Spurs coach Gregg Popovich demands complete buy-in to the collective from the individuals on his team, disdaining highlight reel dunks in favor of unselfish ball movement.
And like Berkshire Hathaway Inc. (NYSE:BRK.A) and its famed chairman Warren Buffett, Spurs managers have a way of buying low, finding value in late-round draft picks that would be squandered by other teams, in other words, finding sleeper stars who secure championships.
"They both represent 'old school,'" Roger Nusbaum, an ETF Strategist at AdvisorShares, said. "Berkshire is mostly old school, bottoms-up stock-picking execution, and the Spurs are old school basketball for the most part. Not flashy for the most part."
Under Popovich's reign and led by star big man Tim Duncan -- perhaps the least exciting and hardest-working superstar in the history of his sport -- the Spurs have won nearly 70 percent of its regular season games while reaching 17 consecutive postseasons. In all but three playoffs, the team has advanced beyond the first round.
In short, in a crowded marketplace full of serious-minded, deep-pocketed competitors from larger cities, the Spurs have managed to secure something rare: a near-dominant hold over their industry.
Of course, the Miami Heat and its highest-profile superstar, LeBron James, aim to complicate this chapter in the management textbook when the two teams square off on Thursday night for Game One of the best-of-seven NBA Finals. Oddsmakers have the Spurs favored to beat the star-studded Heat, who are coming off consecutive championships.
Yet if they were a publicly traded company, the Spurs might already have notched its place in "Good to Great," the 2001 best-selling management book by Jim Collins. He cited 11 "great companies" and used seven characteristics that boost a company from "good to great." They included such characteristics as humble leaders driven to do what's best for the company, adding talent and find the right role for them as well as promoting a culture of discipline.
The Spurs can check all those boxes. There are few star players more humble than the reserved Duncan, and few coaches who are more no-nonsense and intense than Popovich. The team actively signs players who buy into Popovich's system of spacing and ball movement. The team consistently proves its discipline and teamwork, and did so again in the 2013-2014 season by leading the league in assists and having the lowest number of personal fouls.
Terance Wolfe, a professor of clinical management and organization at the University of Southern California's Marshall School of Business, sees the parallel with how the Spurs achieved sustained success and how businesses thrive, even though the aging Spurs roster lacks superstars of the caliber of the Heat's LeBron James or the Oklahoma City Thunder's Kevin Durant.
Wolfe cites the business performance model of "strategy, structure, people, and process."
"Strategy is having a clear and compelling goal," he said. "The structure is: are we organized to meet that goal? And then, do we have the right people and capabilities? And that doesn't necessarily mean superstars."
The Spurs have reached their second consecutive Finals without a "true superstar." All-Star veteran guards like Tony Parker and Manu Ginobili are routinely overlooked as the top players at their position, though their contributions have paid major dividends for the team, and Duncan is viewed as past his prime at age 38, yet he is still considered an elite defender and rebounder.
But the Spurs' system has extended beyond Duncan, Parker, and Ginobili, as Popovich has actively found solid complementary players over the years like defensive specialists and long-range shooters like Bruce Bowen and Kawhi Leonard, and serviceable big men who stretch the court with outside shooting like Robert Horry and Matt Bonner, as well as hard-nosed players like Malik Rose and Boris Diaw. All the players know their roles, and all fit into Popovich's coaching process.
"The process is kind of part of the glue. It's the culture you create within your organization. It's the reward system. It's the leadership style and coaching style," said Wolfe.
"It sounds like Popovich's coaching style is just a good fit. It fits well for his organization, and it seems to fit well for his players."
San Antonio's impressive run has been described as "boring," but what the Spurs lack in style points they more than make up for in results -- not unlike the reputation Toyota secured as its global mode of mass production set a new bar for manufacturing efficiency.
Before recent years characterized by lethal ignition problems, recalls, and lawsuits, Toyota was known for saturating suburban communities with unsexy models that regularly won awards for reliability. Only the purist regards the Spurs as must-see TV, yet with little drama or mystery they keep winning.
Of the 30 teams in the NBA, only the Los Angeles Lakers have had more championships since 1997. But the Lakers are coming off a horrendous season, and also struggled from 2004-2007, after superstar Shaquille O'Neal left the team due in part to clashes with teammate Kobe Bryant. The Spurs have never had such problems amongst their star players.
While the model of surrounding a team with superstars at the expense of a balanced and deep team has had success, it also has had notable failures. The Lakers flamed out in the 2003-2004 season when they added legends Gary Payton and Karl Malone, and did so again when they added star players Dwight Howard and Steve Nash in 2012-2013. Wolfe referenced a college basketball team that attempted to be the "UCLA of the East" by stockpiling top talent in the 1970s.
"The University of Maryland was consistently putting out a pretty good basketball team," he said. "They had a coach named Lefty Driesell. But then he recruited a group of superstars, and they just started fumbling all over the place, because everybody wanted the ball. So he had tremendous difficulty creating that sense of teamwork, because they all wanted to be individual contributors.
"So at the end of the day, you need to have people who are prepared to work as a team. You have to have the right coaching, which is the right structure piece.
"The coaching and organization need to be in place. You need to have a clear goal, and sense of purpose or mission."
If there is a team with a clear goal and a sense of purpose, it's the Spurs. Owner Peter Holt bought the team in 1996 for $76 million, and has not only retained Popovich but also general manager R.C. Buford, who has held the position since 2002. Buford has been responsible for adding crucial role players to complement Duncan.
The triumvirate of Holt, Popovich, and Buford has produced such positive results that there has been little impetus to rock the boat. This is in sharp contrast to most NBA teams, which often go through multiple coaches and GMs in a span of five years let alone a dozen or more. The Spurs haven't even changed their uniforms in that time, let alone their management.
These decisions have paid off for Holt. Forbes estimates the value of the Spurs at $660 million. They are the 10th most valuable team, despite playing in one of the smaller media markets. Entering the season, Forbes ranked the Spurs' net worth ahead of the Los Angeles Clippers, who were recently sold for $2 billion.
The Spurs may not be able to maintain this winnng success for much longer, but they have at least provided a blueprint in how efficiently an organization can run. Nusbaum believes that the Spurs are just one model to look at and learn from.
"There are countless recipes for success, including sticking to the basics and focusing on execution," said Nusbaum.
© Copyright IBTimes 2023. All rights reserved.
FOLLOW MORE IBT NEWS ON THE BELOW CHANNELS