NBA: LeBron James Doing More Amazing Things Besides Preparing Lakers For Next Season
Aside from preparing the Lakers for next season, LeBron James has been doing other amazing things this offseason.
The Los Angeles Lakers have been quite busy and stressed out recently due to different issues. With all the drama surrounding the team this offseason, James evidently has some weight on his shoulders as he needs to prepare the team for next season. However, despite the busy schedule, the Lakers superstar managed to find some time to do other amazing things.
Just about a week ago, James was joined by four high school teammates to dedicate a multicolored outdoor basketball court at the I Promise School. The school was founded last year for underprivileged children in his hometown by no other than James himself, USA Today reported.
During the inspirational event, James took the microphone and addressed the kids. Before taking the court for a quick pickup game against the youngsters, the four-time MVP encouraged them to chase their dreams the same way he and his friends did.
In his short speech, James reminded the kids that the basketball court should teach them more than just basketball.
"This is a basketball court and we see basketball hoops, but it teaches you so much more than just basketball. To be able to create a brotherhood or sisterhood and create things that will last forever. A lot of people say things you do in high school you'll forget. Well, we created a friendship 25 years ago and we're still firm and strong. This is our way of giving it back to you guys — paying it forward," James stated.
Along with James were his former coach Dru Joyce III, Willie McGee, Romeo Travis and Sian Cotton, the "Fab Five" from St. Vincent-St. Mary High School. This was the same group that won a state title and became nationally known as James rose from an Ohio teen prodigy to professional icon.
In relation to this, a young player from Oklahoma City Thunder revealed that he learned a lot from James as a mentor. In an interview with ESPN, Thunder forward Darius Bazley said that he feels lucky to be mentored by James as a newbie in the league. Bazley is expected to play a bigger role for the Thunder next season as Russell Westbrook and Paul George already parted ways with the team.
All told, James is still working on another project this summer. Space Jam 2 is one of the most talked-about basketball movies today. And apparently, James is also busy shooting the sequel of the famous Michael Jordan film.
ESPN Tweeted a sneak preview of what the Tunesquad jersey would look like in the movie where James allowed people to have a peek at the color of the said jersey. Based on what James was wearing, the jersey is in aqua-blue tank with light red and dark-blue trim.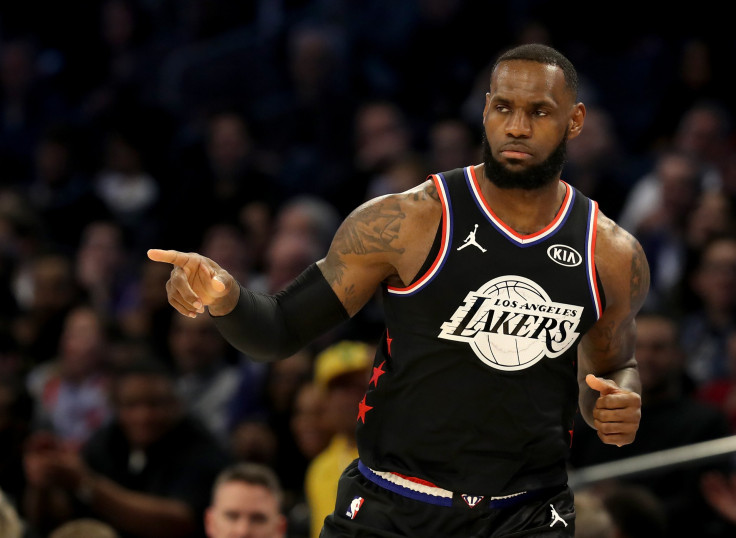 © Copyright IBTimes 2023. All rights reserved.