NBA Rumors: Celtics President Back On Feet, Gives Free Agent Bound Star Shoutout
Kyrie Irving has made headlines recently, most speculating where he will play next NBA season. As most perhaps know by now, at least two teams have been linked to Uncle Drew - particularly the New York Knicks and the Los Angeles Lakers. The 27-year-old had already said that his decision will be made on July 1.
Curiously, the Boston Celtics have not been mentioned much in the rumor mill although they are not expected to let Irving walk easily. They are still expected to make their pitch to Uncle Drew and with team president for basketball of operations and general manager Danny Ainge back on his feet, the Beantown squad may be more aggressive from here on.
Ainge suffered a mild attack earlier this month in Milwaukee and was expected to make full recovery, USA Today reported. This was the time when the Celtics visited the Bucks for games 1 and 2 of the NBA Eastern Conference finals. It was his second heart attack, the last of which happened in April 2009.
Ainge has reportedly been back with the team for some weeks now according to head coach Brad Stevens although it was only now when he made his presence felt. Aware that the former Celtics guard may be pushing himself too much, Celtics co-owner Steven Pagliuca is trying to force Ainge to slow down as he recovers from his recent heart attack, Mass Live reported.
Regardless, the tireless working Ainge seems to be well enough as of the moment and he even congratulated Irving for being selected to the All-NBA Second Team. It may not be much although it could hint that the Celtics are still in the running to try and keep the all-star guard in the fray.
Keeping Irving is seen critical if the Celtics are to try and lure Anthony Davis to the Boston fold. It was Ainge who was singled out as the one who told the Pelicans to try and delay a Davis trade until the summer for Boston to make an offer for the NBA big man. With Irving in the picture, Davis joining a team with an established all-star guard could prove pivotal as the summer promises to be a wild chase for top names looking to join a top-tier team.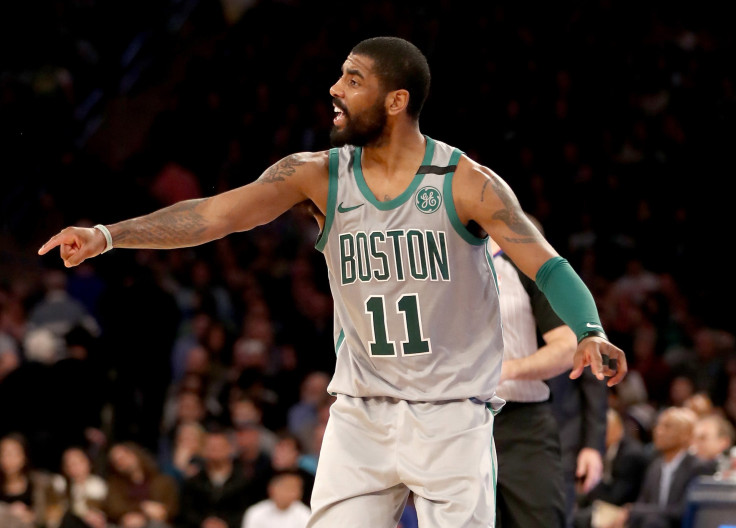 Irving is set to become a free agent with at least three other teams in pursuit. Aside from the Celtics, Knicks, and Lakers, the Brooklyn Nets are another team that may court the one-time NBA champion in the summer.
© Copyright IBTimes 2023. All rights reserved.