NBA Rumors: Kevin Durant, Chris Paul Set To Hit Free Agency, Not Expected To Leave Warriors, Rockets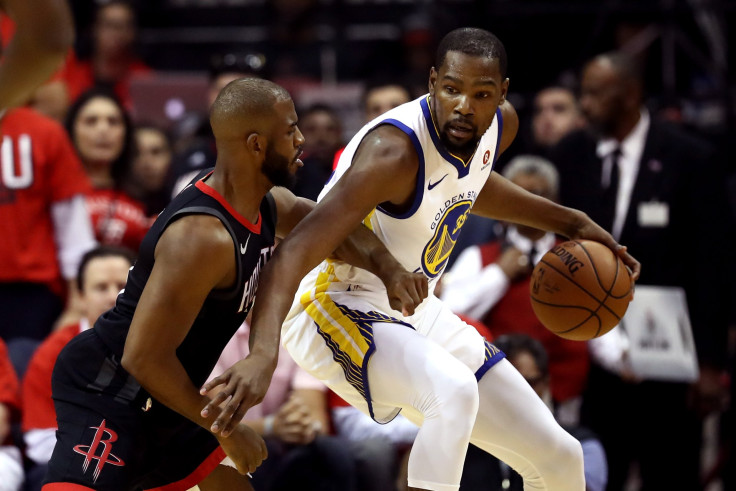 It hasn't been talked about much, but two of the NBA's 10 best players are about to become free agents. That's not in reference to LeBron James and Paul George, who have garnered most of the headlines in the early part of the offseason.
There's a chance that neither James nor George will even hit free agency. Both players still have to decide if they want to opt out of the final year of their respective contracts.
No such decision is upcoming for Kevin Durant and Chris Paul. The two superstars are without contracts and set to hit the open market on July 1.
Durant could've played on a one-year, $26.3 million deal for the Golden State Warriors in the 2018-2019 season, but Marc Stein of The New York Times reported that the NBA Finals MVP has already informed the team that he's looking for a new deal. Paul played the 2017-2018 season on the final year of his contract with the Houston Rockets.
The odds are against James staying with the Cleveland Cavaliers, and it's unknown if George will stay with the Oklahoma City Thunder. The Los Angeles Lakers are considered to be serious players for both All-Stars.
When it comes to Durant and Paul, there isn't expected to be any big news. Durant should re-sign with Golden State, and Paul is expected to re-up with Houston.
It would be especially shocking to see Durant change teams. The forward has won two championships and two NBA Finals MVP awards in his two seasons with Golden State. He'll get a raise this offseason, and the real interest will come in the length of his new deal.
There's been a small hint of speculation that Paul could leave the Rockets. Much of that stemmed from a report by FS1's Chris Broussard that claimed there was some tension between Paul and Houston. The point guard, however, was quick to make fun of that report with ESPN's Rachel Nichols. USA Today's Sam Amick cited two sources that noted there is no friction between the player and the organization.
Houston is expected to make Paul a lucrative contract offer one season after acquiring him from the Clippers. Paul finally made it past the second round of the playoffs with the Rockets, coming one victory shy of upsetting the Warriors and reaching the NBA Finals. Paul missed the last two games of the Western Conference with a hamstring injury.
Both Durant and Paul can sign max contracts worth upwards of $200 million.
© Copyright IBTimes 2023. All rights reserved.