NBA Rumors: Lakers, Bucks Frontrunners For Signing Veteran Forward, Kawhi Wait Continues
The Memphis Grizzlies are trading Kyle Korver and Jevon Carter to the Phoenix Suns for De'Anthony Melton, Josh Jackson, a 2020 second-round pick and a 2021 conditional second-round pick. But the Suns are not expected to retain Korver, with the veteran's contract expected to be bought out by the Phoenix franchise.
ESPN's Adrian Wojnarowski reported the trade between the Grizzlies and Suns, but the news coming out of the trade is the possibility of Korver being available this summer. The NBA insider claims that the Los Angeles Lakers, Milwaukee Bucks and Philadelphia 76ers are leading the chase for the veteran shooter.
The 38-year-old played with the Cleveland Cavaliers and Utah Jazz during the 2018-19 campaign where he averaged 8.6 points with 39.7 percent shooting from beyond the arc. Korver was an All-Star member in 2015 and can sign for one of the interested teams once he clears waivers.
"Suns are planning to buyout the partially guaranteed contract of Kyle Korver, league sources tell ESPN. Lakers, Sixers and Bucks are frontrunners to sign Korver once he clears waivers, sources said," Wojnarowski wrote.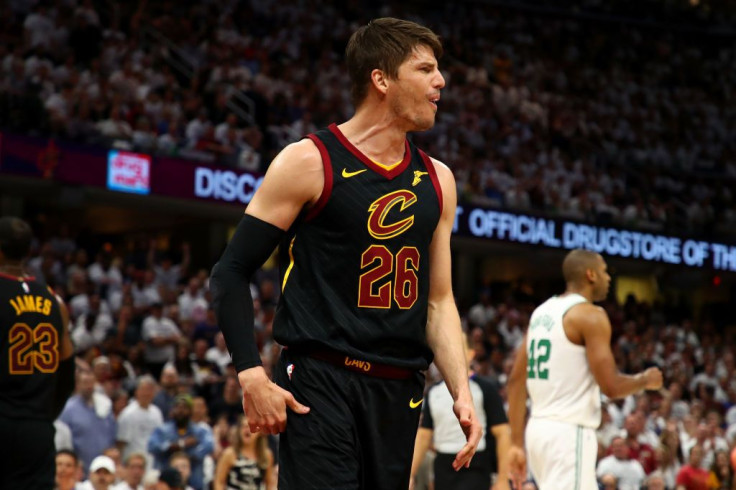 The Lakers' main focus this free agency has been on Kawhi Leonard, who has kept all the chasing teams in suspense by delaying his decision about where he will play next season. But in the meantime, general manager Rob Pelinka has gone about filing the team's roster with other free agents mostly on minimum wages.
The Los Angeles franchise lost three players from their young core – Lonzo Ball, Josh Hart and Brandon Ingram – when they traded for Anthony Davis, which has depleted their bench strength. Jared Dudley has agreed to join the franchise on a minimum from the Brooklyn Nets, but the Lakers need to sign veterans on minimum contracts, especially, if they use their $32 million in max salary cap space to sign Leonard.
© Copyright IBTimes 2023. All rights reserved.