NBA Rumors: Warriors Considering Rockets Guard But Exchange Carries Many Questions
KEY POINTS
THe Warriors are exploring the possibility of adding Victor Oladipo to help Steph Curry and Draymond Green
Golden State may not have the young players to convince the Rockets to let go of Oladipo
The Warriors are also following the same philosophy of investing in youth
The Golden State Warriors continue to find answers, and adding more talent is something that could help their redemption drive.
The current NBA season has not been especially kind to them although they are not entirely out of the playoff hunt.
There are several players head coach Steve Kerr can consider. They were mentioned as one potential team who could land Blake Griffin before the former Rookie of the Year opted to join the Brooklyn Nets.
Regardless, there are still other players out there they could trade for before the March 25 deadline.
One name that most see as moving to the Bay Area is Victor Oladipo of the Houston Rockets. With their season good as gone, the team is placing their veterans on the block.
The 6-foot-4 guard was part of that blockbuster James Harden trade, and trade rumors swirled when he turned down the two-year contract extension offered to him last month.
Oladipo is in the final year of his four-year $85 million deal that he signed with the Indiana Pacers in 2018. He is set to become a free agent after the current season, yet another risk why NBA teams are being cautious.
Regardless, the Warriors are reportedly eyeing the All-Star guard according to a report from The Ringer.
The Dubs are looking for someone to fill in the void of Klay Thompson. The 31-year-old missed his second-straight season due to an Achilles injury, and Stephen Curry and Draymond Green need more consistent help.
Oladipo could be a rental to boost the Dubs' chances in a crowded Western Conference division.
However, an underlying question remains. This is figuring out who the Warriors could include in a deal for the two-time All-Star. Houston wants young players in exchange for Oladipo, making it a bit complicated.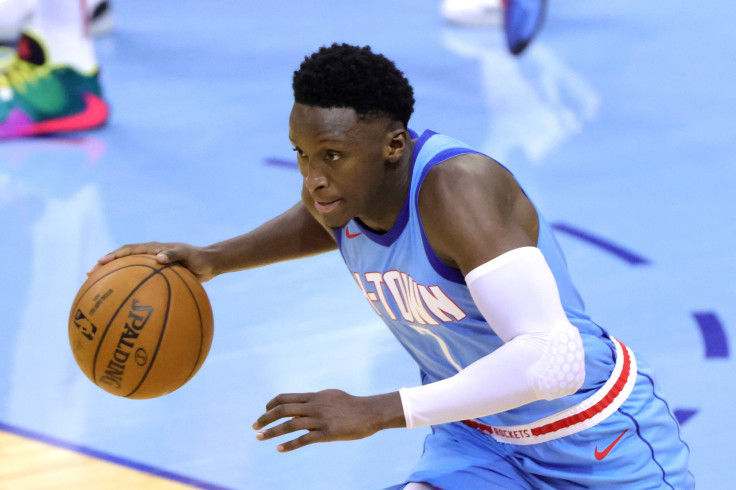 Warriors general manager Bob Myers is not keen on giving up valuable assets, a twist that could hamper the chances of seeing Oladipo in a Golden State uniform.
Like the Rockets, he seemed to hint that they also wanted to retain their younger legs as the Dubs look beyond the current NBA season.
There are scenarios to consider, so it will be interesting if the Warriors will still pursue Oladipo. Things could change in the coming weeks with the NBA trade deadline fast approaching.
© Copyright IBTimes 2023. All rights reserved.