NBA Trade Rumors: Enes Kanter Getting Share Of Suitors
Enes Kanter is a rare player that any coach or team would dream of having. He is a regular double-double machine and someone NBA playoff-bound teams can surely use.
In a previous post, Kanter mentioned that he loves New York and that he merely wants to play ball. However, he does carry a hefty price tag, owning a $27.9 million cap hold that may prevent the Knicks from getting other good players to fill key positions. That said, it comes to no surprise that New York may be listening to offers with reports that several teams have inquired about the services of the Turkish center.
According to the Athletic, several teams have inquired about Kanter, but no deal is imminent. The 26-year-old has had a reduced role with the Knicks with the team now focusing on the development of young players. Currently toting a 10-29 win-loss record at the Eastern Conference, the Knicks may be hardpressed to push themselves to snag a playoff seat.
Unless the current trend of using younger players over the veterans changes at some point moving forward, the Knicks are likely to tank for the rest of the season. And being in rebuild mode, a logical move would be to trade Kanter to the team that makes the best offer. There are no clearly identified teams as of this writing.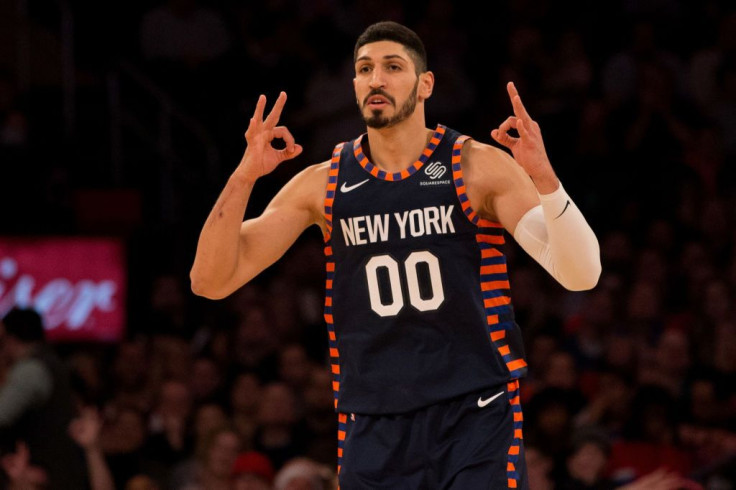 Speaking of Kanter, the Turkish player recently hit the headlines when he said he would skip the team's game in London next week. According to BBC.com, the third pick of the 2011 NBA Draft by the Utah Jazz fears for his life and believes there could be an assassination attempt.
Seeing how he has seen limited playing time to date, the Knicks should be fine even without his services. The Knicks are set to face the Washington Wizards on Jan. 17 at the O2 Arena.
"I'm not saying that (Recep Tayyip) Erdogan's going to do an operation [against me] in London but it's more there are lots of crazy supporters of his. You can say that I'm paranoid but I don't want to take the risk," said Kanter.
With regards to his career, among the teams that could use someone like Kanter include the Los Angeles Clippers, Sacramento Kings, San Antonio Spurs or even the Brooklyn Nets. The Knicks are likely to be dangled some young players along with future draft picks to align with their goal of rebuilding the franchise.
© Copyright IBTimes 2023. All rights reserved.