NBA Trade Rumors: Utah Jazz Interested In Jabari Parker
The Utah Jazz are one of the teams reportedly interested in trading for out-of-favor Chicago Bulls forward Jabari Parker.
Parker, a Chicago native, signed with the Bulls on a two-year, $40 million deal this summer. He was initially the sixth man, but would become a starter after injuries to the side, in particular, starter Lauri Markkanen.
But with Markkanen healthy and back in the team, Parker returned to the bench and was recently reported to be dropped from the regular rotation, having played just four first-half minutes against the Orlando Magic last week.
As a result, Parker and the Bulls reportedly began discussing a trade, with several teams inquiring for the power forward according to his agent Mark Bartelstein. One of them is the Jazz according to The Ringer's Kevin O'Connor.
"The Utah Jazz are one of the teams interested in Parker, according to multiple league sources," O'Connor wrote. "Derrick Favors is an awkward fit next to center Rudy Gobert, and his $16.9 million on the books for next season is non-guaranteed, meaning he could be one of the pieces involved. Favors can't be traded until January 15, so Chicago would have to wait."
It remains to be seen if Chicago would do a deal involving Favors though. The Utah forward would be joining a team already jammed with frontcourt players in the likes of Wendell Carter Jr., Markkanen, Robin Lopez and Bobby Portis.
And it's not like a move for Favors would save Chicago any more money from the summer onwards than it would by keeping Parker, who while owed $20 million next season, will only get a second year if the Bulls exercise their team option which looks unlikely.
However, anything is possible, especially with reports stating the Bulls are not satisifed with Parker's defensive work. Until a trade happens, Parker is focused on giving his best, even if he is out of the lineup.
"I chose to come here," Parker said. "I did everything I can to prove that I belong here. And I'm going to continue to do that. My job is to be ready to be on the court. My agent's job is to just be my defense and be that voice for me that I'm not able to say."
"... It's bigger than anything that I'm given. I only deal with [head coach] Jim [Boylen], and I just have to take his word for it and trust what he's telling me. I can have as many opinions as possible, but that doesn't matter. It doesn't matter how I feel. It is what it is. I was given the expectation I was out of the lineup. Until somebody says otherwise, I'm still in that position."
The 23-year-old is averaging 15.2 points, 6.9 rebounds, 2.3 assists, 0.3 blocks and 30.1 minutes per game over 29 games this season. Favors on the other hand, is averaging 11.2 points, 7.1 rebounds, 0.9 assists, 1.3 blocks and 23.1 minutes per game over 29 games this season for the Jazz.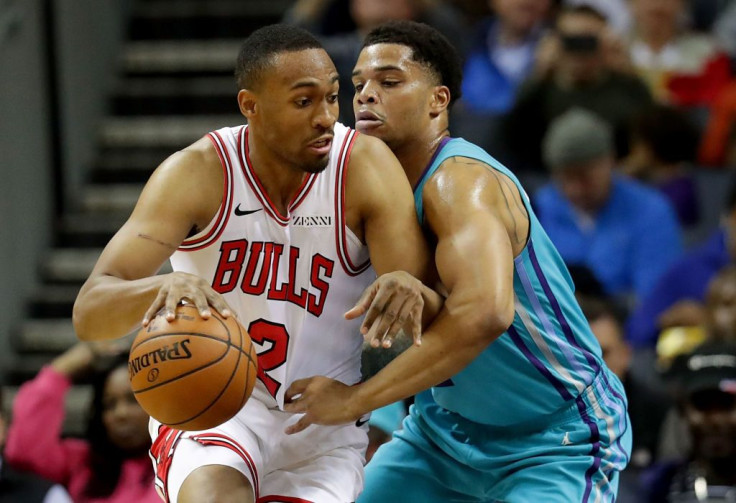 © Copyright IBTimes 2023. All rights reserved.
FOLLOW MORE IBT NEWS ON THE BELOW CHANNELS