NBA: Vince Carter's Best Game Wasn't All About Dunks
KEY POINTS
Vince Carter reveals the best NBA game of his career
Carter didn't have too much dunks in his best NBA game
Carter said Allen Iverson brought out the best in him
NBA future Hall of Famer Vince Carter reveals his best NBA game and it's not about dunks.
In his lengthy NBA career, Carter has had an array of most memorable moments inside the court. Aside from being the oldest active player in the league today, Carter was once famous for his spectacular in-game dunks. However, the dunk icon recently revealed that his best game in the NBA didn't involve too much dunking.
In an exclusive interview with Los Angeles Times, Carter looked back at some of the best games of his career. According to "Vinsanity," he once scored "60 points" in a summer game but he doesn't count that as he barely remembers what happened during the game.
"Well, one of my best games was a summer game where I scored 60 or something, but I remember that number more than I remember the game so I don't want to count that," Carter revealed.
Instead, Carter recalled playing against a prime Allen Iverson in the playoffs where he had to score as fast as he can in order to keep up with "The Answer's" incredible scoring.
"And then there's the one in the playoffs versus the Sixers when A.I. and I were going back and forth. I scored 50 that game. That was probably it, my most memorable, because of the back-and-forth with one another ," Carter recalled.
While Carter is known for his electrifying dunks, the said playoff game was more about winning and responding to Iverson's tremendous game. According to the 42-year-old veteran, he shot a lot of threes that night and didn't expect to score 50. However, he felt like Iverson was the best player on the floor and he must do whatever it takes to shut him down.
"It was like, 'A.I. was the best player on the floor, and his team did what they needed to do on their floor. What are you going to do about that?' I felt like I had to respond. It didn't have to be a 50-point game. You just had to find a way for your team to win. Well, it turned out to be a 50-point game," Carter said.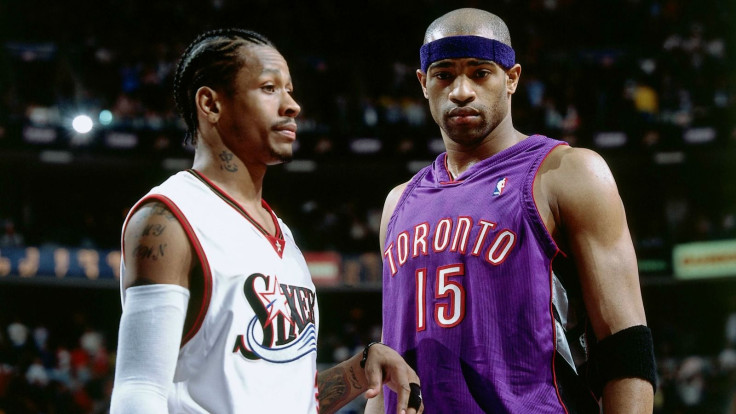 Iverson and Carter were two of the best scorers in NBA history. In early 2000's the two rivaled against each other and as per Carter, their duels inside the court brought the best out of him.
"Going against him brought the best out of me. As far as that playoff series, it was probably one of the best in my career. Allen Iverson is Allen Iverson," Carter said about battling Iverson.
After making history as the only NBA player to play for 22 consecutive seasons, Carter finally called it a career and is now playing his final season with the Atlanta Hawks.
© Copyright IBTimes 2023. All rights reserved.