Nepal Earthquake: Push For Immediate Relief Leaves Menstrual Hygiene Behind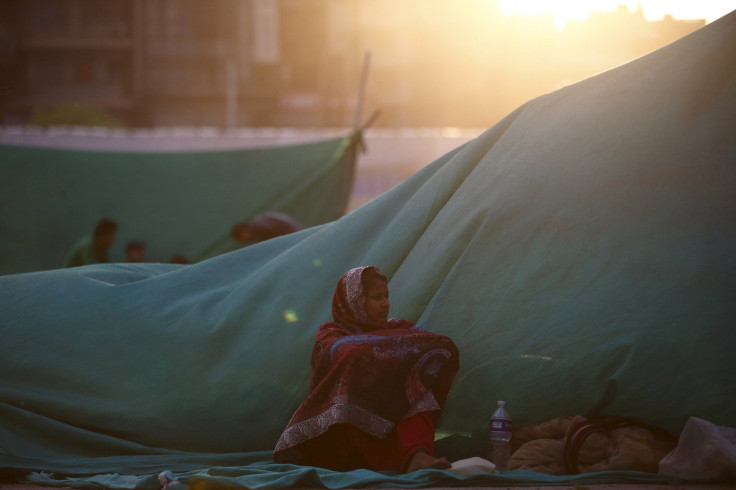 KATHMANDU, Nepal -- Most of the shelves are full at a tiny corner pharmacy in Kathmandu's Mahadevsthan neighborhood. But the stacks of brightly colored plastic pouches that sit below the main counter are quickly being depleted.
"Sanitary pads? Many people have been coming to buy them since the earthquake," said Santoshi Giri, the pharmacy cashier.
A week after a massive earthquake believed to have killed at least 6,700 people, hundreds of thousands of Nepalis are camped outdoors in tents, either afraid or unable to return to their homes. For female evacuees, the problems of living in makeshift camps with no toilet facilities are made worse by the lack of supplies for dealing with menstruation. And the longer they stay in the camps, the more menstrual hygiene will become an issue.
The women in Kathmandu who are quickly buying out Giri's stock of napkins are the lucky ones. Thousands of women, especially in remote villages outside the capital, don't have access to any feminine health products. The lack of toilets (the camps may have trenches), combined with deep-seated cultural taboos about menstruation, threaten to add women's health problems to the already lengthy list of crises caused by the devastating quake.
In the rush to deliver immediate survival supplies -- food, water and tents -- to Nepalis affected by the quake, sanitary pads didn't appear on the list of priorities, said Usha Acharya, the co-founder and executive director of the Little Sisters Fund, a Nepal-based organization that specializes in girls' education. "They are not thinking about the sanitary pads," she said of aid organizations. "They are not thinking of the girls differently."
That is not uncommon: Sanitary pads are frequently an afterthought in international aid, so much so that there are privately funded donation campaigns being conducted to compensate for the lack of attention given by established organizations.
In Nepal, a handful of organizations include sanitary napkins in the survival kits they're distributing.
Loom, a women's-rights organization in Nepal, recently launched a Support 10,000 Women campaign to deliver pads, as well as items for new and expectant mothers, to women in several districts outside the capital. "There's lots of mobilization of young people and also from the government side working for relief, but there's hardly anybody thinking about the hygiene of women," said Ursula Singh, the Loom program officer.
When Loom volunteers went to distribute items to women and girls in the tent communities, some were shocked by what they saw. "Some young girls who were menstruating were sitting inside the tent in one place, because they did not have sanitary pads, and there were all these bloodstains," Singh said. "It was getting bad. They used to go out, and they just weren't anymore."
However, just getting access to pads may not be enough. Across Nepal's earthquake-hit areas, particularly outside the capital, people who have lost their homes are making use of open-air, communal toilets -- and privacy is hard to find.
That's a problem for a country with an acute sensitivity about menstruation. It takes different forms across the country. In some areas of the rural west, women and girls in very traditional Hindu communities are exiled to rudimentary huts outside their homes for the duration of their periods, an outlawed practice known as chaupadi. In other households, women who are menstruating stay out of the kitchen and sleep in separate rooms, away from their husbands. Elsewhere, women who are able to buy sanitary pads keep their purchases wrapped heavily in newspaper when leaving the stores.
"There's a lot of stigma and a lot of restrictions, but also a lot of silence," explained Pema Lhaki, deputy executive director of the Nepal Fertility Care Center, a Kathmandu-based organization that has been working in menstrual health education. "People don't want to talk about it."
These taboos and the lack of privacy in many encampments could endanger the health of even women and girls who do have access to sanitary supplies, warned Dr. Hema Pradhan, a consultant gynecologist and fistula surgeon working at the Kathmandu Model Hospital. "They won't be changing. They'll be using the same pad and panty for three, four days," she said. "They won't be disposing [of] them. It's our culture ... and if they don't change [pads], it will cause infections." Over a prolonged period of time, she said, repeated pelvic infections would increase the risk of infertility. (Tampon-related infections wouldn't be an issue, since they generally aren't used in Nepal, she said.)
Sanitary pads are rare outside cities such as Kathmandu, given that they're far too expensive for most poor Nepalis to buy. In remote villages, women use and reuse cloths. But those in hard-hit areas may not have many options left to wash their cloths or themselves, since supplies of clean water are dwindling.
Priya Lama, 22, said she was boiling her menstrual cloths to keep them clean after use. Lama was staying in an encampment inside Kathmandu's Tundikhel park, which has become one of the capital's largest tent cities and has access to a few portable toilets and donated cooking materials from relief organizations.
But the vast majority of the Nepali communities that have suffered from the quake don't have such amenities. And while the massive international push to provide relief is starting to trickle into villages that have received little aid so far, female hygiene is still not the most pressing concerns for earthquake victims.
Even Pradhan admitted it hadn't been on her hospital's radar. "We are rescuing, we are thinking of fractures, deliveries, C-sections, abortions -- but we aren't thinking about menstrual hygiene," she said. "Now that you've said it, it just struck my mind."
Brianna Lee reported from Nepal with travel provided by the International Reporting Project (IRP).
© Copyright IBTimes 2023. All rights reserved.