Nepal Earthquake Death Toll Reaches 6,204; Red Cross Says Towns Near Epicenter 'Devastated'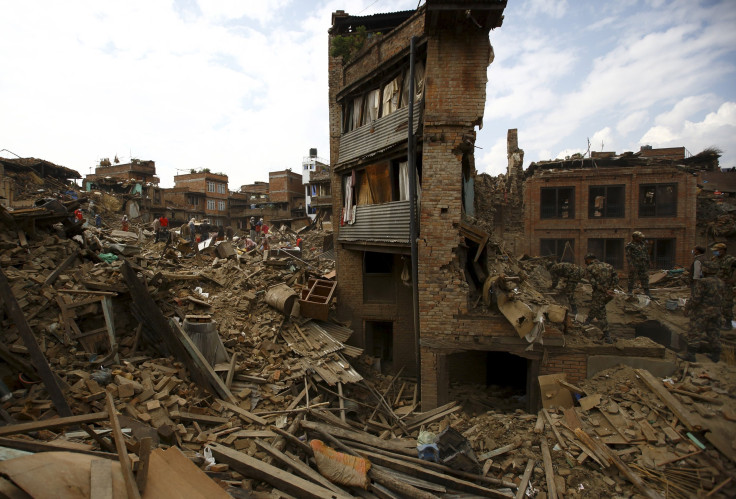 Update as of 2:29 a.m. EST: Nepal's government announced Friday that it would give out 100,000 Nepali rupees ($1,000) to the families of each of those killed in Saturday's earthquake. The government will also give 40,000 rupees ($400) to cover funeral costs, the Associated Press (AP) reported, citing Radio Nepal, a state-run radio channel.
Meanwhile, Nepal Rastriya Bank, the country's central bank, ordered all private banks to open for at least a few hours on Friday and over the weekend to help distribute the money.
Original story:
The death toll from Saturday's earthquake, which killed thousands of people in Nepal, has risen to 6,204, Agence France-Presse (AFP) reported, citing the National Emergency Operations Centre (NEOC). The country's army chief had said Thursday that up to 15,000 people may have died in the powerful 7.8-magnitude earthquake.
According to NEOC, 13,932 people were injured in the devastating quake, which is estimated to be the deadliest to hit Nepal in 80 years, affecting nearly 8 million people across 39 districts. Other than Nepal, the earthquake has killed more than 100 people in neighboring India and China, officials told AFP.
"Our estimates are not looking good. We are thinking that 10,000 to 15,000 may be killed," General Gaurav Rana, chief of Nepal's army who is leading the nationwide rescue effort, told NBC News on Thursday. "There is unrest, and we are watching it. Yes, there is the threat of an epidemic, and we are watching it."
On Friday, Nepal's Finance Minister Ram Sharan Mahat, appealed for help from international donors, saying that the country would need at least $2 billion for the rebuilding effort. "This is just an initial estimate and it will take time to assess the extent of damage and calculate the cost of rebuilding," Mahat told Reuters.
Although the army has been working with the police to identify local hot spots and rescue people trapped in remote areas of the country, the lack of government assistance has triggered anger among people in villages outside the capital city of Kathmandu.
Meanwhile, the Red Cross said that towns and villages near the epicenter of the earthquake had suffered "almost total devastation," with the organization's assessment teams stating that they had found several survivors in a "desperate situation."
"One of our teams that returned from Chautara in Sindupalchowk district reported that 90 per cent of the homes are destroyed," Jagan Chapagain, director of Asia Pacific with the International Federation of Red Cross and Red Crescent Societies, said in a statement. "The hospital has collapsed, and people are digging through the rubble with their hands in the hope that they might find family members who are still alive."
Sindupalchowk, located northeast of Kathmandu, is said to be one of the worst-affected regions of Nepal, with up to 40,000 homes estimated to have been destroyed in the district alone, BBC reported.
"Many people are coming to Nepal Red Cross health posts with untreated wounds and our health teams are seeing an increase in cases of flu and respiratory problems, particularly amongst the young and elderly," Chapagain said.
© Copyright IBTimes 2023. All rights reserved.