As Nepal Struggles With Earthquake Recovery, US Sending Military Aid Plane To Kathmandu [VIDEO]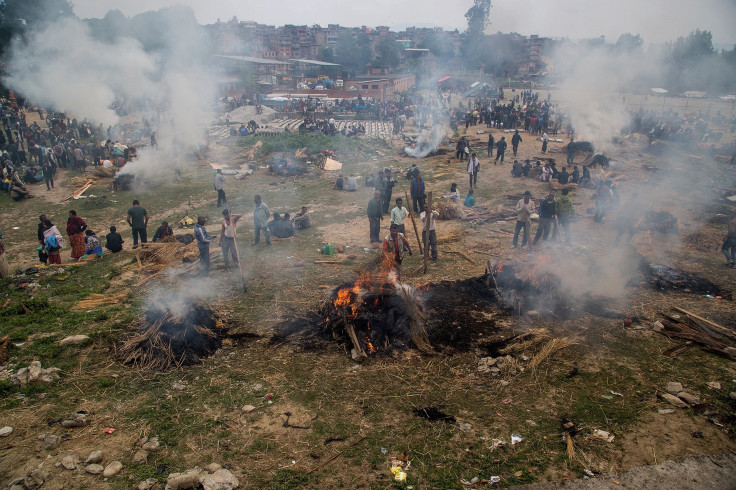 A U.S. military plane is headed for Nepal, the Pentagon announced Sunday. The plane departed from the Dover Air Force Base in Delaware with 70 personnel, including a U.S. Agency for International Development disaster assistance response team, a Virginia search and rescue team, and 45 tons of cargo, the Associated Press reported. The plane is headed for quake-ravaged Nepal where about 2,500 are confirmed dead, thousands more are missing and hundreds of thousands may be homeless after Saturday's magnitude 7.8 earthquake.
Despite aid pledges from China, India, the U.S., U.K. and other countries, there is barely any sign of an organized relief effort outside Kathmandu, Nepal's capital, Reuters reported.
"We are overwhelmed with rescue and assistance requests from all across the country," Deepak Panda, a member of the country's disaster management, told the news service.
The airport in Kathmandu has been closed since Saturday, and aid groups are struggling to find ways into the country. Rain, cloud cover and repeated aftershocks from the earthquake have further hampered the efforts of rescue workers to provide aid.
Charity CARE International said the death toll could run into the thousands, with hundreds of thousands homeless. "Almost everyone has slept outside and they are creating temporary shelters with what they have," Santosh Sharma, CARE's emergency response coordinator in Kathmandu, told Reuters.
"There is no electricity, and soon there will be a scarcity of water," Sharma added.
The earthquake has affected people throughout Nepal and around the region, with deaths and property destruction reported in India, Bangladesh, Pakistan and Tibet as well. Even after the earthquake, ongoing aftershocks have made it dangerous for residents to take cover in buildings that are still standing. Rainfall doused Kathmandu, leaving the streets full of 1.2 million people who were without anywhere to find shelter. Much of the mountainous country between India and Tibet is still without electricity.
"We're just gearing up," Roger Hodgson, deputy country director in Nepal for the aid organization Save the Children, told the New York Times. "People have been resilient. But it's been difficult to get people and supplies into the country, especially to rural areas far from Kathmandu."
© Copyright IBTimes 2023. All rights reserved.
FOLLOW MORE IBT NEWS ON THE BELOW CHANNELS