Nepali Minister Blasts Qatar, FIFA, Over Treatment Of World Cup Migrant Workers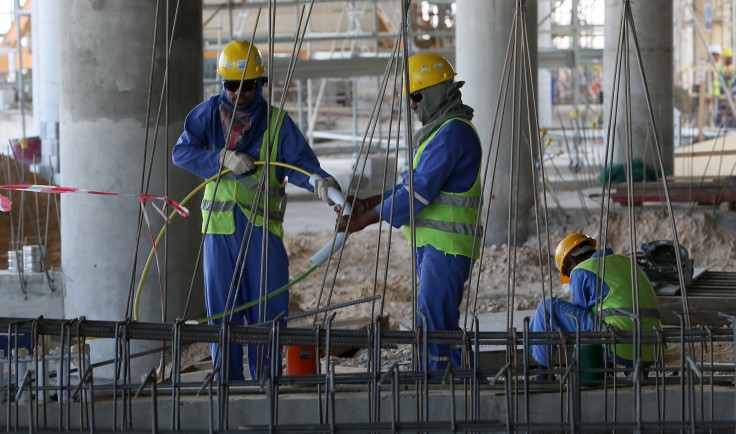 A minister in the Nepalese government has publicly criticized Qatar and international soccer's governing body, FIFA, after thousands of Nepalis working on stadiums for the 2022 World Cup in the emirate were barred from returning home to attend the funerals of relatives killed in last month's earthquake.
Tek Bahadur Gurung, Nepal's labour minister, told the Guardian: "After the earthquake of 25 April, we requested all companies in Qatar to give their Nepalese workers special leave and pay for their air fare home. While workers in some sectors of the economy have been given this, those on World Cup construction sites are not being allowed to leave because of the pressure to complete projects on time."
There are up to 400,000 Nepalis working on a variety of projects in Qatar, including the World Cup. There has been increasing international concern about the country's treatment of foreign workers on the project, after it was revealed that Nepali workers died at the rate of one every two days in 2014.
Gurung singled out FIFA and its commercial sponsors for criticism, telling the paper: "Nothing will change for migrant workers until FIFA and its rich sponsors insist on it. ... (but) we are a small, poor country and these powerful organizations are not interested in listening to us."
Foreign workers in the country are subject to a system of labor rules known as kafala, a state-sponsored system by which a worker is tied to his Qatari employer, the worker's movements are restricted, and his passport may be held by his employer.
Earlier this week, Amnesty International released a report highlighting the plight of migrant workers in Qatar. The group found that pledges made by the Qatari government to improve the situation of migrant workers in the country had little or no impact.
"The lack of a clear roadmap of targets and benchmarks for reform leaves serious doubts about Qatar's commitment to tackling migrant labour abuse. Without prompt action, the pledges Qatar made last year are at serious risk of being dismissed as a mere public relations stunt to ensure the Gulf state can cling on to the 2022 World Cup," said Mustafa Qadri, Gulf migrant rights researcher at Amnesty.
© Copyright IBTimes 2022. All rights reserved.
FOLLOW MORE IBT NEWS ON THE BELOW CHANNELS