'Nest Zero': US' First 'Murder Hornet' Nest On Display At Washington DC Museum [Photo]
KEY POINTS
"Nest Zero" is now on display at the Smithsonian Museum of Natural History
It was found on a tree in Washington state in 2020
It's "still too early" to determine the hornets' true impact, says a USDA entomologist
People can now see the very first "murder hornet" nest in the U.S. as it is currently on display at a museum in Washington, D.C.
The first-ever Asian giant hornet nest in the U.S. was found on a tree in Washington state in 2020. People can have a closer look at it now as it is part of the new exhibits at the Smithsonian Museum of Natural History since Tuesday, WJLA reported.
Apart from the original nest, dubbed "Nest Zero," the other items on display include a hornet fitted with a tracker that led experts to the nest and the eye-catching hornet-proof suits that the entomologists wore during the eradication efforts.
This is the first time that Nest Zero is put on display, according to Smithsonian Magazine. The display is a part of the new "Our Places" exhibit, which focuses on the "interaction between humans and nature."
Asian giant hornets, dubbed sometimes "murder hornets," are the largest ones among the world's hornet species. They were first sighted in the U.S. near Blaine, Washington, in 2019. Their sheer size, as well as their reputation of being capable of decimating honey bee colonies within a matter of hours during their "slaughter phase," caught the attention of many and sparked concerns about the country's honeybee population.
"The hornet is simply trying to get by though, just like the rest of us," said Matt Buffington, a research entomologist with the U.S. Department of Agriculture. "I think the real reason these hornets made such a media frenzy is their unabashedly awesome nickname "murder hornet." I mean, who isn't going to pay attention to that?"
Even though years have passed since the first sightings, it's "still too early" to determine the exact impact of the arrival of the Asian giant hornets in North America. Among the questions that still have to be answered include where the hornets came from and if there are still other nests around, Buffington added.
Anyone in the state can help prevent Asian giant hornets from getting established by participating in the Washington State Department of Agriculture's (WSDA) citizen science programs or by simply reporting any suspected Asian giant hornet sightings. The agency has included pictures of the species to help identify it, along with photos of other species that may be mistaken for them, on its website.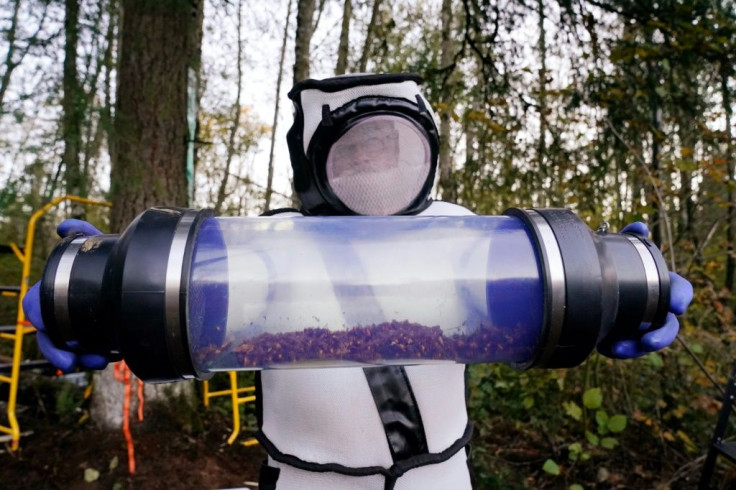 © Copyright IBTimes 2023. All rights reserved.