Netanyahu at AIPAC Policy Conference 2012: Live Coverage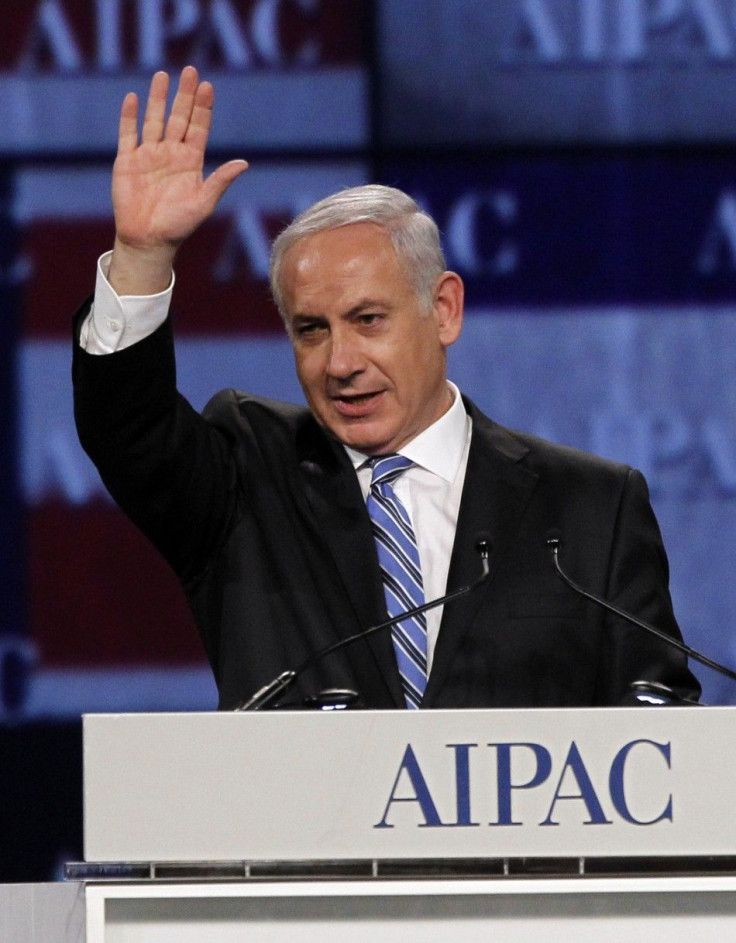 Israeli Prime Minister Benjamin Netanyahu addressed the American Israel Public Affairs Committee Monday night at the pro-Israel lobby's annual gala banquet in Washington, just hours after he told President Barack Obama that Israel must be the master of its fate concerning Iran.
The gala is the highlight of the three-day conference, in which 13,000 activists descended on the Capitol to lobby Congress for foreign aid to Israel, listen to major leaders talk about America's biggest Middle Eastern ally and gather at panel sessions to discuss policy.
Netanyahu made his annual speech, preceded by House Minority Leader Nancy Pelosi, D-Calif., and Senate Minority Leader Mitch McConnell, R-Ky. Obama spoke at the conference Sunday.
Iran was the focus of Netanyahu's address. Earlier in the day Obama met for a private and intense meeting with Netanyahu about the escalating threat of Iran's nuclear program. Although Obama had assured that both the prime minister and I prefer to solve this diplomatically, Netanyahu told the president Israel would make a decision on a military strike with or without the United States.
Israel must have the ability always to defend itself, by itself, against any threat. ... Israel has the right, the sovereign right, to make its own decisions, Netanyahu said, adding that Israel must be the master of its fate.
The banquet gala has kicked off with musical performances by the Maccabeats (of YouTube fame) and Israeli rock-fusion band the Idan Raichel Project. The International Business Times began live blogging the event at 8:30 p.m. ET. Read below for the minute-by-minute updates.
--
LIVE BLOG! (Most recent updates at bottom)
8:20 pm: AIPAC board member Michael Tuchin gets things started. He says almost 2,000 students are here. There are also Obama administration officials in the house, as well as diplomats from 16 countries. The room here is quite impressive -- the Walter E. Convention center is massive, and this room is dimly lit with a gorgeous background image of the capitol under the stars.
8:22 pm: Rev. Jim Vickers of Ohio and a rabbi (will update with name soon) take the state, talk about the importance of recognizing the Jewish homeland. Lots of talk about diversity. They also give a prayer, ask to give strength and courage to Benjamin Netanyahu and President Obama. Amen
8:28 pm: Maccabeats (those fun YouTube guys who sing Jewish songs!) sing the Star-Spangled Banner in a lovely a capella rendition. Idan Raichel leads with Hatikvah, the Israeli national anthem (video below).
8:32 pm: Richard Stone, chairman of the conference, takes the stage. We know the indestructible tie between [Israel and America] is rooted in shared values ... It cuts all religious and political lines. He says we'll replace lies with simple truths as we need nothing else to make our case but to say the truth.
8:37 pm: Now a promo video, starts with the words, My inspiration, my connection. Features a mother whose son was deployed to the Middle East. I had the opportunity to visit Israel and before I left I knew very little ... I did not know how much they helped our military sons and daughters.
8:39 pm: Wendy Hoffman, former president of Blue Star Mothers of America, the mother from the video, says every mother should be able to welcome their sons and daughters home from overseas.
8:43 pm: Tim Wuliger, past president of AIPAC, praises Sen. Mitch McConnell for his support for Israel. Says he played an instrumental role in passing crippling sanctions against Iran. Introduces him to the audience. Here comes McConnell. Standing ovation.
8:44 pm: McConnell says he's here to talk about the strong and unbreakable bond between Israel and America. Wants to acknowledge all that Kentuck'ans who are here. We may not have a large Jewish population, but we make for it in heart .. There's only one race that's better than the Jews, and that's the Kentucky Derby. ha. ha.
McConnell goes straight to Iran, blaming the current administation for not doing enough to stop the country's nuclear program. McConnell refers to the reports that show Iran was hiding its nuclear program from the IAEA, refusing tours of its facilities and refusing to explain the purpose of its activities. If Iran behaves the way it does without a nuclear weapon, than how would it behave with one? he asks. Clapping.
8:52 pm: McConnell goes through the reasons why Iran is one sketchy country. It threatened to assasinate the Saudi ambassador in the U.S., it trains militants and ships weapons that are used against American soldiers, it financially backs al-Qaida, he says. They are the actions of a self-described revolutionary state that is determined to shift the balance of power in the Middle East, McConnell said. Make no mistake, Iran has a goal in mind. One that has pushed for years through terrorism and covert actions and what I believe is the pursuit of a nuclear weapons program.
Obama bashing continues. The reason why the Obama administration hasn't halted Iran's nuclear program is in its policy, McConnell said. Obama was too soft in giving deadlines to Iran, who took advantage of the time to build uranium enrichment. Congress then grew impatient and supported sanctions in 2010 that the president reluctantly signed. Applause. McConnell thanks Sen. Mark Kirk, R-Ill., (who is unable to come because he is recovering from a stroke) for authoring a number of sanctions against Iran.
All options on the table is not a policy, it's a talking point, and a talking point will not deter Iran, McConnell said. He says the administration's mistake is that in attempting to preserve all options it has not taken on the most important one, and that is a military campaign to end Iran's nuclear program. Clapping.
9:04 pm: The Kentucky Republican said the best thing to do is impose the strictest sanctions on Iran and at the same time, implement a policy that expresses a commitment to the use of force. Standing ovation. He said all that's been lacking until now is a clear policy, and if the president can't do it, Congress will do it for him. If at any time the intelligence presents an assessment that Iran is enriching uranium to weapon levels ... he said he will consult the President and seek the authorization for military force. McConnell is frowning his most serious frown.
It is in the clear national interest of the United States to end Iran's support of terror, the senator continues. We share these interests with Israel ... Israel's security is not negotiable. More standing ovation. We can't shrink from affirming that from the rest of the world, and we can't shrink from a president who's not doing what is necessary. More standing ovation. I expect them to be standing for the entirety of Netanyahu's speech.
9:13 pm: Cheering at the sound of Pelosi's name. (Former AIPAC president Amy Friedman is introducing her). Friedman praises Pelosi for traveling around the world for four years with dog tags that belonged to captured Israeli soldier Gilad Shalit, who was released by Hamas last October.
9:16 pm: Pelosi says its an honor to be here with Bibi Netanyahu. Said he took great pride in showing her an ancient seal that dated back thousands of years, which had Netanyahu's name. She said the establishment of Israel is one of the greatest achievements of the 20th century. Praises President Shimon Peres, said the state of Israel is a better place because of him, congratulates him for being awarded the Presidential Medal of Freedom.
Isn't it great that Gilad Shalit is free and home with his family? Pelosi says, adding we should never forget the other captured soldiers. Said McConnell's presence is evidence of bipartisan support of Israel.
Pelosi mentions her Jewish grandchildren, said another one has entered this world since she last spoke at the AIPAC plenary. Mentions other family members who have shown commitment to the Jewish state. For our family, Israel has always had a special place ... our pledge remains the same. Israel and American are friends and partners now and forever. Mentions shared values and vision, including women's rights. If that was it, we could have said Dayeinu! That would have been enough Pelosi said, referring to the Jewish song sung on Passover. But Israel's friendship went even further. Cites how we continue to give record levels of aid to Israel, continued intelligence sharing.
9:26 pm: The pursuit of a world free of nuclear weapons has been the policy of Democrats and GOP alike, Pelosi says. Calls on all countries to join us in preventing Iran from getting nuclear weapons. That is a top priority and that is what President Obama is doing and much more, Pelosi says. She encourages Imposing sanctions on companies who sell technology to Iran, giving banks ultimatums in dealing with either Iran or the U.S.
Like the president said, Pelosi continues: I do not have a policy of containment, I have a policy of preventing Iran from making nuclear weapons. Said she prays for the day all Jewish children can find hope in the place they call home. Pelosi's speech ends with standing ovation (but she did not get as many ovations as McConnell.)
9:33 pm: Another promo video. This one is with an older man named Gen. Bareket (I THINK this is the spelling of his name, apologies if there is an error), who served in the 1973 Yom Kippur War. He comes on stage to a standing ovation.
9:36 pm: Thirty-eight years ago my country was on the verge of disaster, Bareket says ... thanks to our determination and the United States support, we prevailed. I know more than most what could have happened if America had not been there for Israel. Almost four decades later my country once again faces a substantial threat to nuclear Iran, he says. America is the world's greatest democracy, a bastion of freedom. It will continue to lead the global effort to make sure Iran never ever has the capability to make nuclear weapons. Thank you. God bless the State of Israel, and God Bless America. Shalom
9:40 pm: Apperently Netanyahu isn't here yet. We're reminded by an announcer that Bibi will be here shortly, so don't go anywhere! We have a moment to stretch our legs.
9:43 pm: Incoming AIPAC president Michael Kassen welcomes Netanyahu and his wife, Sara. Wishes them mazel tov on their anniversary last week. With my great honor, it is my pleaseure to welcome the Prime Minister of Israel, Benjamin Netanyahu. House lights go on to show overwhelming standing ovation, even in the press box.
9:46 pm: Wow, just like in the Knesset, the prime minister jokes. Sara and I want to thank you for this wonderful reception, this applause that could be heard as Jerusalem. That's Jerusalem, the eternal united capital of Israel. Audience roars. Asks for the audience to stand up and applaud the Congress members here for standing up for Israel.
9:49 pm: Gives a shoutout to Kirk, who authorized an Iran sanctions act. As I mentioned before, he is currently recovering from a stroke. Sen. Kirk, I know you're watching this tonight. Please get well soon. America needs you, Israel needs you. Netanyahu then asks Yossi Peled to stand up. He hid with a Christian family in Belgium as his relatives perished in Auschwitz. Yossi then became one of Israel's greatest and bravest generals. He now serves as a minister in the Cabinet. Yossi's life is the story of the Jewish people ... a strong and proud nation that became able to defend itself ... and ladies and gentlemen, Israel my always reserve the right to defend itself. Standing ovation.
9:53 pm: Netanyahu thanks U.S. Ambassador to Israel Dan Shapiro. Obama was right, your Hebrew is improving. Bibi asks if there are any students here tonight, goes through some states. Lots of folks seem to be from California. You are the future.
Ladies and gentlemen, I'd like to talk about a subject no one has been talking about recently: Iran. Laughter. Bibi says he's not going to talk about what Israel will do or not do, because he never does that. But he'll explain why Iran can't have nuclear weapons. President Obama has reiterated his commitment to not letting that happen. Israel has the exact same policy.
9:56 pm: Amazingly, some people fail to acknowledge that Iran is doing what it's doing. He says that some people believe that Iran builds an undergound facility and is enriching uranium for scientific purposes. If it looks like a duck, it walks like a duck, it quacks like a duck, it's a duck. It's a nuclear duck. It's time to start calling the duck, a duck.
Netanyahu says that peoples say sure, Iran is cruel, but it's not crazy. He disagrees. As prime minister, I will never gamble with the security of the state of Israel, Netanyahu says to some more standing ovation. He says the Islamic regime has broken every international rule. It hangs gays, stones women, sends children through minefields. It is the world's foremost sponsor of terror, Netanyahu says. He adds that Iran is responsible for killing hundreds if not thousands of Americans.
Netanyahu basically quotes McConnell, says if this is how Iran acts without nuclear weapons, imagine how it will act with nuclear weapons. He says imagine how high oil prices can get once Iran starts blackmailing the world. If Iran gets nuclear weapons, it would ignite a mad dash for other Arab countries to get their hands on them, to. I want you to think about what it would mean for nuclear weapons to be in the hands of those radicals who shout 'death to America' and 'death to Israel' ... when you do I hope you'll reach a simple conclusion ... Iran must not be allowed to acquire nuclear weapons.
Netanyahu goes on to say how the international community has tried diplomacy and sanctions, but it hasn't worked. He appreciated Obama's efforts to put sanction on Iran which have harmed its economy, but its nuclear program continues. None of us can afford to wait much longer. I will never let my people live in the shadow of annihiliation.
10:08 pm: Netanyahu brings up the argument that attacking Iran would make things worse. He said he's read letters from the World Jewish Congress -- he holds up letters from 1944, when the WJC was debating whether or not the Allies should bomb the death camps in Germany. Such an effort might provoke even more vindictive action by the Germans. 2012 is not 1944, Netanyahu said. Today we have a state of our own. And the purpose of our state is to protect Jewish lives and secure a Jewish future ... Never again... Standing ovation.
10:11 pm: Netanyahu brings up this line for the second time today: We most always remain the masters of our fate. We're the only place in the Middle East... where Arabs have full civil rights, where Christians can practice freely ... I will always protect Israel's democracy ... I will never tolerate any discrimination against women. (I can think of a few people who would contest that statement about Arab rights...)
10:14 pm: Purim, the upcoming Jewish holiday, gets a mention. When Bibi mentions Queen Esther, he encourages more applause. There are always people who will try to destroy the state of Israel, Netanyahu says. This time, however, he says we have our own state. On that note, he says, Thank you all. Standing ovation.
10:17 pm: This banquet's not over yet, but there's a mad rush of people leaving now that Netanyahu is done.
The gala is continuing a little while longer, but this concludes our live coverage. Thanks for tuning in!
© Copyright IBTimes 2023. All rights reserved.