Netanyahu London Gaza War Protest: Israeli Prime Minster Greeted By Demonstrators At Start Of 2-Day UK Visit With David Cameron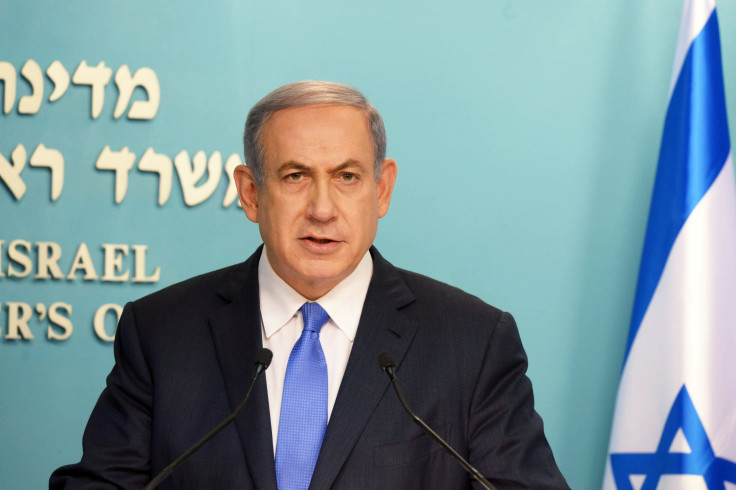 Protesters gathered Wednesday outside of the British prime minister's Downing Street office in London in opposition to a visit from Israeli Prime Minister Benjamin Netanyahu, who some demonstrators have labeled a war criminal for Israel's role in the 2014 Gaza War. The protest, which was organized in part by the Palestine Solidarity Campaign, has called for Benjamin Netanyahu to face a host of strict sanctions, according to RT.
Before his scheduled arrival Wednesday, Netanyahu's two-day trip to the United Kingdom was already a point of deep contention among many local political leaders, including union leaders and Labour MPs, according to the Guardian. Netanyahu, who was in London specifically to meet with British Prime Minister David Cameron and discuss topics such as peace talks and products manufactured in Jewish settlements, said "one focus" of the talks will be about fighting "militant" and "extremist" Islam, likely stoking the anger of Muslims in the U.K. leading up to his visit.
"We're challenged by the opposite of modernity, which is a barbaric medievalism, early medievalism, primitive, savage, murderous, that comes from the two sources of militant Islam," said Netanyahu, who also urged Europe to stop criticizing its stance as it pertains to Palestinians.
"Europe should support Israel - not pressure Israel, not attack Israel, but support Israel, which is the only real shield that Europe and the Middle East have against extremist Islam, which is surging," he said.
A counter protest of sorts was being held simultaneously in the same location as a group of pro-Israel demonstrators held Israeli flags and signs, including one the read "self defense is not a crime."
A group of U.K. politicians and union leaders penned a letter published Monday in the Guardian insisting that Netanyahu face sanctions for what they say was labeled war crimes by the United Nations Human Rights Council's investigation into the 2014 Gaza War. The letter also criticized Cameron for inviting Netanyahu to the U.K. while not welcoming the thousands of refugees fleeing conflict in the Middle East and North Africa.
© Copyright IBTimes 2023. All rights reserved.
FOLLOW MORE IBT NEWS ON THE BELOW CHANNELS