Netflix Inc. Surpasses 57 Million Global Subscribers In Q4; Stock Surges 14% After Hours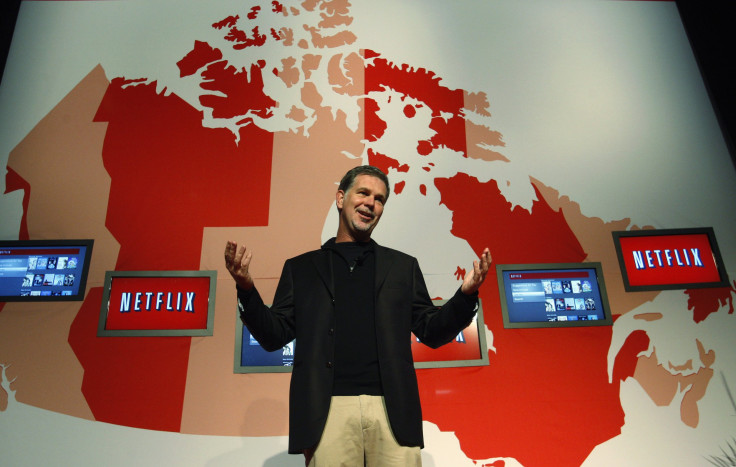 Netflix Inc. took a beating last quarter after adding fewer-than-expected subscribers. It did not make that same mistake this quarter, adding 4.4 million new subscribers and beating estimates. Shares rose more than 14 percent in after-hours trading on the NASDAQ.
Strong international expansion and lower-than-expected costs helped Netflix beat analyst expectations in the last quarter of 2014. The streaming video giant posted revenues of $1.48 billion in the fourth quarter, ahead of a consensus estimate of $1.40 billion. It also posted earnings per share of $0.77, far better than the expected $0.45. Quarterly net income showed strong growth as well, moving from more than $48 million in 2013 to $83 million in 2014.
"It is increasingly clear that virtually all entertainment video will be Internet video in the future," Netflix CEO Reed Hastings wrote in a letter to investors.
Yet the number many investors are responding to more than any on the accounting ledger was subscriber growth.
Netflix delivered on its estimates in the fourth quarter. The company projected that it would add 4 million new subscribers during the quarter, giving it 57 million paid users worldwide. It surpassed both of those expectations, adding 4.4 million subscribers and hitting a worldwide total of 57.4 million. This brings the total number of subscribers added this year to 13 million, compared to 11.1 added last year.
Wall Street has reacted to Netflix's subscriber numbers with great sensitivity recently. The company's stock price fell more than 19 percent in a single day in October, when it announced that it had missed its subscriber estimates both in the United States and in the 49 foreign territories where it operates.
That drop plunged the stock into a malaise, which it has mostly failed to recover from. Since cresting at $484.39 in early September, the stock is down 34 percent.
Netflix's fourth-quarter growth in the U.S. actually slowed, from 2.3 million new subscribers in 2013 to 1.9 million new subscribers this year. "We believe there is big growth ahead in the US market for Netflix, even if we may not get there in a straight line," CEO Reed Hastings wrote in a letter to shareholders.
Yet Tuesday's growth showed that Netflix's international expansion strategy has been paying off. The company now has more than 18 million paid subscribers around the world, a substantial jump from the 10 million it had at this time last year. The service is profitable in 40 of the 50 territories it operates in around the world, and plans to broaden that expansion continue; Netflix will debut in Australia and New Zealand in the first quarter of 2015.
"Ted had the vision to get global rights and moving up the food chain," Hastings said today, referring to Netflix Chief Content Office Ted Sarandos.
His company's broad international footprint has given it increased clout, which Sarandos says has made it easier to win the rights to new, original material. "We do think we're the first or second go-to for most projects," Sarandos said.
Sarandos added that the international presence has made it easier to license existing content as well. "I think studios are looking for ways to sell their product efficiently," he said.
Yet Netflix's global position is far from secure. It faces increasing competition from deep-pocketed streaming video players including Amazon, HBO and Alibaba, both for the rights to original projects and for licenses on other content moving forward. In the fourth quarter of 2014, the company's marketing expenses rose sharply, to $203 million.
DVD revenues, which originally formed the foundation of Netflix's business, continued their systemic decline in the fourth quarter, slipping 4 percent to $5.8 million. Over the past two years, the company's DVD revenues have declined more than 29 percent.
© Copyright IBTimes 2022. All rights reserved.
FOLLOW MORE IBT NEWS ON THE BELOW CHANNELS