Netherlands Partly Liable For 300 Srebrenica Deaths: Dutch Court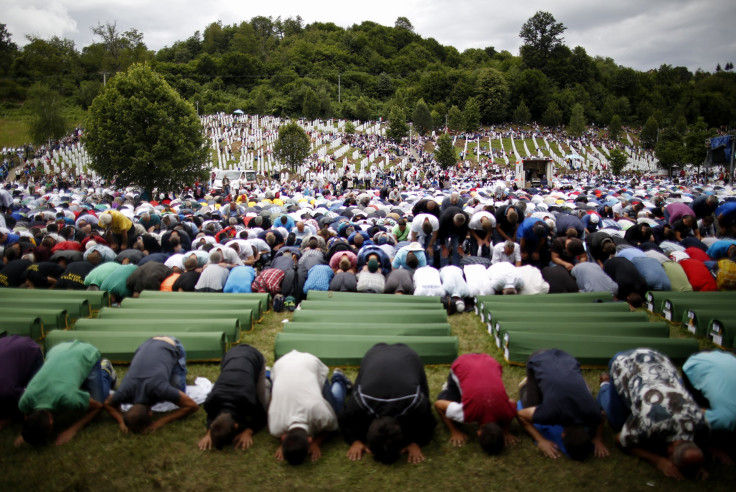 A Dutch court in The Hague ruled that the Netherlands was partly liable for the deaths of over 300 Bosnian Muslims in the Srebrenica massacre of 1995, and ordered the country's government to compensate the victims' families, according to reports published Wednesday.
The court stated that Dutch peacekeeping forces were responsible for the deaths of more than 300 Muslim men who were massacred by Bosnian Serb forces, led by General Ratko Mladic, in July 1995. However, it did not specify the amount of compensation to be given to the families of the victims. The 300 men killed were among 5,000 Bosniaks who had sought refuge in a U.N. compound in Potocari village, located in eastern Bosnia and Herzegovina. They were reportedly killed after Dutch troops asked them to leave the compound.
"By cooperating in the deportation of these men, Dutchbat (Dutch peacekeeping forces) acted unlawfully," presiding judge Larissa Alwin reportedly said, adding that it could be concluded with "sufficient certainty" that had the victims been allowed to stay inside the compound, they would have remained alive.
Bosnian Serb soldiers, under the command of Mladic, reportedly executed more than 8,000 Muslim men, women and children in the town of Srebrenica in July 1995. The town was a Muslim enclave that was protected by a 400-strong contingent of Dutch troops serving in a U.N. peacekeeping mission during the Bosnian War.
Mladic was arrested in 2011, and is currently being tried for genocide at the International Criminal Tribunal for the Former Yugoslavia at The Hague.
The court, however, ruled that the Dutch forces could not be held liable for the deaths of thousands of others who fled into the forests around Srebrenica and were later rounded up by Bosnian Serb forces.
While the relatives of the victims welcomed the ruling, many lamented the fact that the Dutch forces weren't held liable for the deaths of thousands of other Bosniaks under their watch.
"How is it possible to divide victims and tell one mother that the Dutch state is responsible for the death of her son on one side of the wire and not for the son on the other side?" Munira Subasic, president of the "Mothers of Srebrenica" group, which filed the case on behalf of the relatives, told The Guardian.
The Netherlands had earlier argued that it should be immune from prosecution because its troops operated under a U.N. mandate.
© Copyright IBTimes 2023. All rights reserved.