New Delhi Registers A 52% Voter Turnout As India Enters Largest Phase Of Nationwide Elections Yet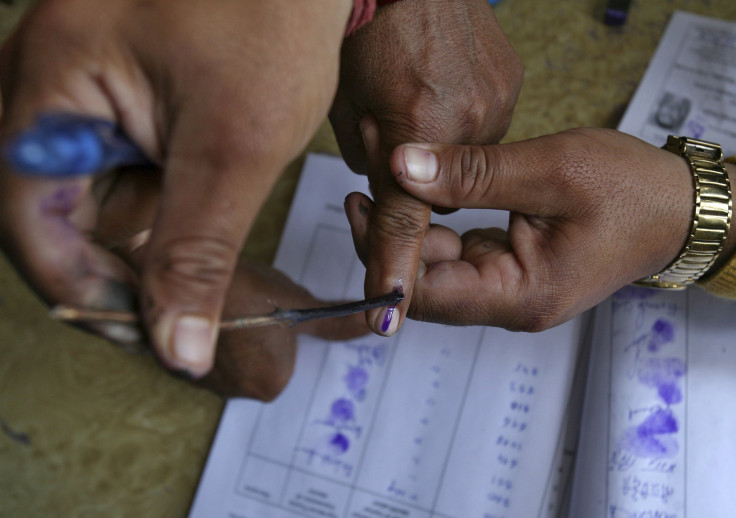 India's capital, New Delhi, went to the polls Thursday, along with 11 states and three territories, as the country entered the largest phase yet of the ongoing nationwide elections, with 91 out of a total of 543 seats in the lower house of Parliament at stake.
Nearly 13 million voters across seven constituencies in New Delhi, and some of the country's largest states, including Uttar Pradesh, Maharashtra and Kerala, voted for candidates competing for 91 seats in the 2014 Lok Sabha elections. While New Delhi is expected to witness a hard-fought battle between Congress, which heads the current ruling coalition and the Bharatiya Janata Party, or BJP, which is leading in various opinion polls; and the upstart, anti-corruption-focused Aam Aadmi Party, or AAP, which won elections in the state of New Delhi in December, results are expected to be even harder to predict in other parts of the vast subcontinent.
"This phase will determine the relevance of the Aam Aadmi Party based on percentage of votes it gets," A.S. Narang, a professor for political science at New Delhi-based Indira Gandhi National Open University, said, according to Bloomberg, adding: "The anti-incumbency vote may not necessarily go to AAP in many seats in Delhi as the BJP has emerged as a strong contender making it a three-cornered fight."
According to polls by NDTV, a national television network, the BJP, which is led by its polarizing yet popular leader, Narendra Modi, is expected to win four of the total seven seats in Delhi. Polls suggest AAP, led by Arvind Kejriwal, who briefly became Delhi's top politician after statewide elections, is expected to win two seats. Congress, beleaguered by a string of corruption accusations and championed by Rahul Gandhi, scion of India's most famous political dynasty, is expected to win only one seat this year, in stark contrast to the 2009 elections, when the party won all seven seats.
The prospect of the rise to power of Modi, who is widely seen as a potential savior of India's economy and has even managed to shake off some of the stigma from his alleged role in communal riots in the state of Gujarat in 2002, has led to a sustained rally in Indian stock markets, which had been subdued by India's worst growth performance in a decade. The BSE Sensex, a major stock exchange in India, has soared nearly 10 percent since January, but concerns about the pace of reforms, stubborn inflation and a lack of infrastructure persist.
"One of the biggest issues that the country is facing is that of food inflation, which has remained in double digits. Never before have there been such high levels of food inflation, making it the single biggest failure of the second UPA (United Progressive Alliance) government. The other major concern has been brazen corruption among those who have been in authority to earn money illegally," Paranjoy Guha Thakurta, an author and political analyst, told International Business Times.
While the BJP is seen leading most polls, the party's victory is not guaranteed, given its right-wing ideology that seems to favor India's majority Hindus over other minority groups. In Muzaffarnagar, in the eastern state of Uttar Pradesh, which is home to a sizable minority Muslim community and was the site of race riots in August 2013, saw only a 48 percent turnout among local voters, The Economic Times reported, although officials estimated the number to climb up to 65 percent before polls closed.
G. Ramesh, head of the Centre for Public Policy at the Indian Institute of Management in Bangalore, one of the country's premier business schools, told IBTimes: "It will be a coalition government as far as I see it, even if any one of (the parties) gets a majority, they will prefer a coalition because today it is very clear that one needs coalition to carry the country along. A single majority coalition is a better alternative for moving reforms along rather than majority itself in coalition. And that is what might work the best for us as of now."
This year's elections are expected to be the most expensive in Indian history, and expenditure from political parties and the government is estimated to reach 300 billion rupees ($5 billion), Bloomberg reported, citing New Delhi-based Centre for Media Studies, adding that though the Election Commission has prescribed a spending limit of 7 million rupees for each candidate, the rule is not enforced very strictly.
By late afternoon on Thursday, New Delhi had seen a turnout of only 52 percent. However, the Election Commission has estimated that the country will see a turnout of nearly 815 million registered voters, which is significantly higher than the 51.85 percent number seen in 2009, the Hindustan Times, a national newspaper, reported.
© Copyright IBTimes 2023. All rights reserved.