New Democrat Ad: Republicans Attack Romney's Bain Background, Too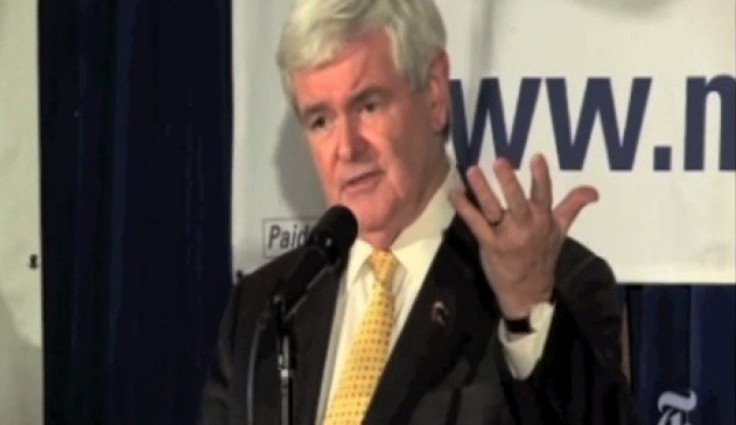 As Republicans take the words of Newark Mayor Cory Booker and other Democrats to slam Obama's attack on Mitt Romney's private-equity roots, Democrats would like to remind the public that prominent GOP politicians have gone after Bain Capital, too.
Priorities USA Action, a pro-Obama Super PAC funded by former aides of the president and other Democratic politicians, released a video that takes clips of Romney's former Republican primary rivals criticizing the presumed Republican nominee's business record.
Here are what some of the ex-candidates said while on the offensive:
Texas Gov. Rick Perry: They wait until they see a distressed company and then they swoop in and lick the carcass clean and then fly away.
Perry, again: It's wrong for Mitt Romney to come to South Carolina and tell you he feels your pain, because he caused it ... there's something inherently wrong when getting rich off of failure and sticking it to someone else is how you do your business.
Former House Speaker Newt Gingrich: These companies leave behind broken families, broken towns and unemployment.
Gingrich, again: Those of us who believe in free markets, and those of us who believe the whole goal of investment is entrepreneurship and job creation, would find it pretty hard to justify trying to find out clever legal ways to leave 1,700 families without a job.
Former Ambassador Jon Huntsman: Mitt Romney says he enjoys firing people. I enjoy creating jobs.
The ad also includes statements made by former Alaska Gov. Sarah Palin and Rick Santorum campaign strategist John Brabender, although Perry and Gingrich make the most appearances.
In what was perhaps anticipation of the Democratic attack, Gingrich said on CNN Monday night that there were things Americans could legitimately look at in Romney's Bain background but said it was a mistake for Democrats to go after it.
We found out when we got in a fight with Mitt Romney over this that it didn't work, Gingrich said on Piers Morgan Tonight.
It's not unusual for negative campaigning to come back and haunt a candidate during the general election. Earlier this month, the Democratic National Committee took clips of Santorum attacking Romney's economic record in Massachusetts for an anti-Romney commercial. Rick, we couldn't agree more, the ad reads.
President Obama and his campaign say their criticism has nothing to do with private equity itself, but about whether Romney's resume makes him qualified to be a good president. At a NATO conference in Chicago Monday, the president referred to his campaign's ads for the first time and said the issue of Bain Capital was what the election is all about.
So far in the election cycle, Priorities USA Action has raised $10.6 million and spent $5.8 million, according to OpenSecrets.org.
© Copyright IBTimes 2023. All rights reserved.
FOLLOW MORE IBT NEWS ON THE BELOW CHANNELS