New Frontier? Pope Francis And Desmond Tutu Speak Favorably Of Gays And Lesbians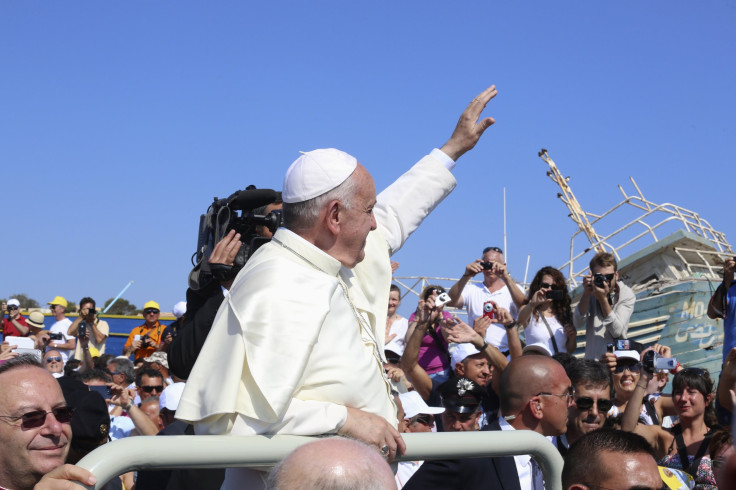 Over the past few days two of the world's most prominent religious figures have defended the rights of gays and lesbians. Returning to Rome on Monday from his triumphant weeklong visit to Brazil, Pope Francis told reporters that he believed gays and lesbians should be integrated into the mainstream of society and not suffer discrimination and marginalization. Still, he asserted that homosexual acts were sinful, in accordance with the teachings of the Roman Catholic Church.
In response to a question about the existence of a "gay lobby" in the Vatican, the Holy Father said: "If a person is gay and seeks God and has good will, who am I to judge them?" The pope even quipped: "You see a lot written about the gay lobby. I still have not yet seen anyone in the Vatican with an identity card saying they are gay."
He added, however, that he was bothered by gay "lobbies." "The problem is not having this orientation," he said. "We must be brothers. The problem is lobbying by this orientation, or lobbies of greedy people, political lobbies, Masonic lobbies, so many lobbies. This is the worse problem."
Nonetheless, Francis' comments were far more conciliatory than the stridently anti-gay stance taken by his predecessor, Pope Benedict XVI, who wrote in 2005 that men with "deep-seated homosexual tendencies" should not be allowed to become priests.
Francis also declared his wish for women to enjoy a greater role in the church, but ruled out the priesthood. "We cannot limit the role of women in the church to altar girls or the president of a charity, there must be more," he stated. "But with regards to the ordination of women, the church has spoken and says no. ... That door is closed."
Pope Francis' comments on gays came a few days after South African Nobel Peace Prize winner and former Archbishop Desmond Tutu equated homophobia with racism. Speaking at the launch of a United Nations-supported campaign in Cape Town to encourage gay rights in Africa, Tutu said, "I am as passionate about this campaign as I ever was about apartheid," adding provocatively that "I would refuse to go to a homophobic heaven. … I mean I would much rather go to the other place [hell]. I would not worship a God who is homophobic and that is how deeply I feel about this."
South Africa is one of the few nations on the African continent where the rights of homosexuals are guaranteed by the constitution. However, in most other parts of Africa, gays and lesbians are subject to extreme violence and prejudice. Some African leaders blasted Tutu for his stance. Robert Mugabe, the president of South Africa's neighbor Zimbabwe, condemned gays and lesbians at a rally over the weekend in the city of Bulawayo. "Never, never, never will we support homosexuality in Zimbabwe," Mugabe said to huge applause from a crowd of his ZANU-PF party supporters.
"Archbishop Tutu said it is nice to be gay, yet he has a wife, he should have begun by getting himself a man [instead of] a woman. When you are a bishop and cannot interpret the Bible, you should resign and give it to those who can. We will not compromise our tradition and tolerate homosexuality." Mugabe then added: "I want to urge parents to be careful with your teenage children who are 17 years and older not to be swayed into this act as children are easily persuaded to accept it."
Mugabe, who is facing another election, has often linked homosexuality to colonialism and the behavior of white Westerners.
© Copyright IBTimes 2023. All rights reserved.