New ISIS Video 'Flames Of War' Claims Direct Confrontation With US Is Near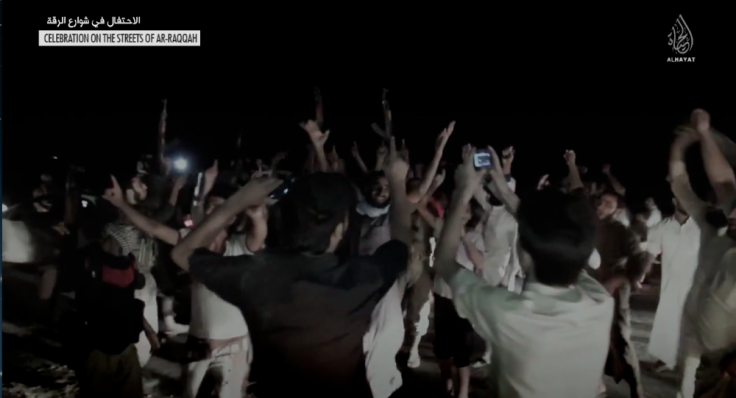 The Islamic State group released a documentary-style video Friday entitled "Flames of War: Fighting Has Just Begun." The ISIS video runs for nearly an hour and is narrated by a man who has what sounds like a North American accent. The militants warn of a direct conflict with America in the near future.
"A proxy war won't help you in Sham [Syria] just as it didn't help you in Iraq," the video's final message states. "As for the near future, you will be forced into a direct confrontation."
The video was clearly made for an American audience and the group formerly known as the Islamic State of Iraq and Syria seems to be conveying the message that U.S. troops will back in Iraq and possibly in Syria. The militants seem eager to encourage U.S. forces to invade.
Like the Islamic State group's previous video releases, this propaganda video appears to be professionally made. The video includes many desert scenes and appears to show militants seizing towns and cities across Iraq and Syria. Parts of the video seemed to have been filmed with a night-vision camera.
The film saves the most gruesome attacks for the last five minutes. The video shows scenes from a brutal massacre at the 17th Division air force base in Raqqa, now an ISIS stronghold. Syrian regime forces that were captured by the militants are shown digging their own graves and warning Syrian families to get their children out of President Bashar Assad's army.
The militant group released another video Thursday showing kidnapped British journalist John Cantlie, who promise to deliver the "truth" about the Islamic state through a series of instructional YouTube videos. "Flames of War" echoed the theme of the group wanting to educate Americans about the Islamic State and the reasons for their insurgency. Showing clips of a very rare appearance of ISIS leader Abu Bakr al-Baghdadi, the narrator gave a detailed history of the war in Syria and how the militant group rose to power.
"Flames of War" includes parts of President George W. Bush's speech after the 9/11 attacks and a press conference he gave after bombings in Iraq.
"The United States and our allies have prevailed," the video shows Bush saying. The narrator then replies: "They lied, the flames were just beginning to intensify."
© Copyright IBTimes 2022. All rights reserved.
FOLLOW MORE IBT NEWS ON THE BELOW CHANNELS