New MacBook Pro Features, Price, Release Date Announced: Apple Includes TouchID In New Models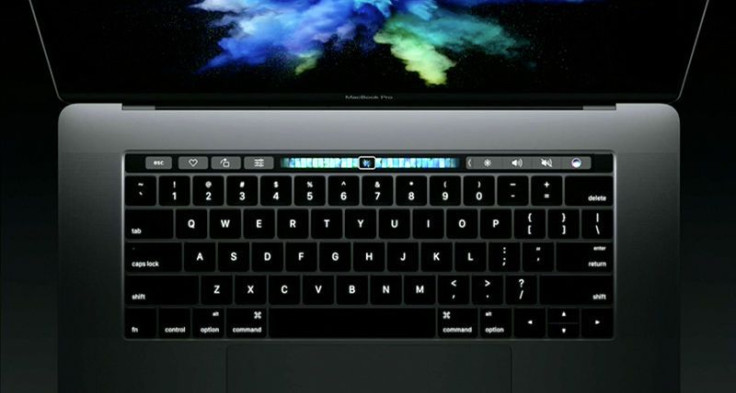 The main highlight at Apple's "Hello Again" today in Cupertino was the new MacBook Pro.
Like previous models, the MacBook Pro is aluminum, while the 15-inch and 13-inch models are thinner than previous models. The 15-inch weighs 4lbs and is lighter than the old MacBook Pro.
Phil Schiller, Apple senior vice president of worldwide marketing, said "It has a whole new design made of metal; it's aluminum on all sides. It is the new gold standard in notebook computers."
The MacBook Pro also has a new trackpad that features Force Touch and a new keyboard. The biggest news is that a new OLED strip takes place of the function keys. It also sports a Retina display and responds to gestures.
The Touch Bar and Touch ID sensor replace the function keys and the power button, both which were on previous MacBook Pro keyboards.
Apple's new MacBook pro also includes Touch ID. This means you can login to your Mac with your fingerprint. It can also work Apple Pay.
The Touch Bar functions as it has "Retina" resolution, which responds to gestures and supports up to 10 fingers. The virtual keys on the Touch Bar can move and easily ASAP to what you're using. The Touch bar features broad emoji categories on the left and specific emoji categories on the right. The Touch Bar can also let you browse through photos and videos. Using Safari, the Touch Bar lets you switch between open tabs.
The 15-inch MacBook Pro is powered by Intel's sixth-gem quad-core Core i7 processors and comes with AMD Radeon Pro graphics with 4GB of video RAM and 2TB of SSD storage.
The new 13-inch MacBook pro is also pretty powerful. It has a caul-core Intel Core i5 or & processor, Intel Iris Graphics that are 2x faster and SSD storage.
The new MacBook Pro has many ports and replaces the 4our USB-C ports, which was first introduced on the 12-inch MacBook. All of the USB-C ports are Thunderbolt 3, which means they have two 4K displays up to 60Hz and up to 40Gbs.
The 15-inch MacBook Pro starts at $2,399 and is available for pre-order today. It will ship within two to three weeks.
The 13-inch MacBook Pro, which includes the Touch Bar and Touch ID, start at $1,799 and is available to pre-order today.
The thin version of the 13-inch MacBook Pro costs $1,499 and is available to pre-order today.
The MacBook Pro comes silver and space gray color options.
© Copyright IBTimes 2022. All rights reserved.
FOLLOW MORE IBT NEWS ON THE BELOW CHANNELS