New Mexico Toddler Shoots Father And Pregnant Mother, Police Say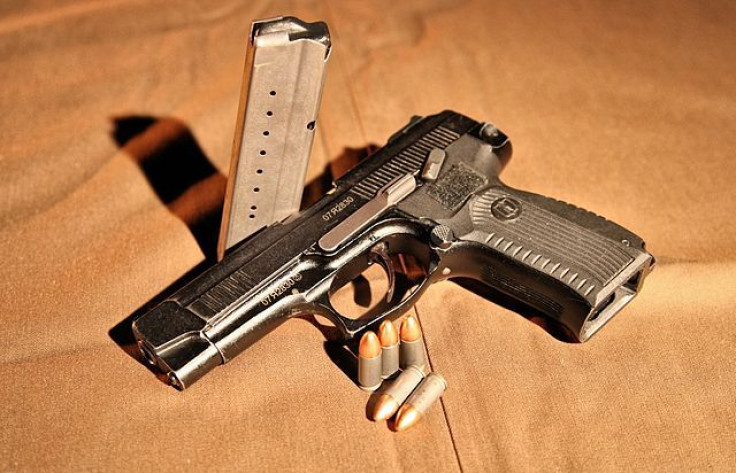 A 3-year-old boy shot his father and pregnant mother with a gun found unsecured in his mother's purse at an Albuquerque, New Mexico, motel on Saturday, local authorities said on Sunday. The toddler managed to fire one bullet, which struck his father in the buttocks and his mother in the shoulder.
The boy's mother, Monique Villescas, who is eight-months pregnant, is under observation at a local hospital, while his father, Justin Reynolds, was treated for non-life threatening injuries and released shortly after, according to Reuters. Villescas said she owned the 9-millimeter handgun, which she bought on Friday. Reynolds was convicted of a felony and is legally barred from owning a firearm. The pair may face felony negligence charges, Albuquerque Police Department Officer Simon Drobik said.
"On the kid's side, its a horrible accident that happened, but the parents are still culpable," he said. "They should have secured the gun."
The child was looking for an iPad in his mother's purse when he found the gun, authorities said. Following the shooting, Reynolds immediately called 911 and tried to stop Villescas' bleeding with towels before emergency responders arrived on the scene, he told Albuquerque's NBC affiliate KOB. He said he is thankful that his two-year-old daughter, who was also in the room, wasn't hit.
The family had been living in the America's Best Value Inn for a week when the incident occurred. Authorities took the toddler and his 2-year-old sister into child protective services and the family's two pit bulls were taken by animal control officials.
There is no compiled data on how many accidental gun deaths every year are considered accidental, but in 2011 there were around 50 children under the age of 13 killed in such incidents, or an average slightly less than one out of 10 accidental gun deaths that year, according to the Washington Post. The last high-profile accidental gun death happened in August 2014 when a 9-year-old girl accidentally shot and killed her shooting instructor with a fully automatic Uzi 9-millimeter handgun in neighboring Arizona.
The New Mexico chapter of Moms Demand Action, a gun-control group, said that incidents like the motel shooting were preventable and asked parents to do what is necessary to keep their guns out of their children's hands. "With rights come responsibilities, and when it comes to kids and guns, the onus should always be on adults to be the responsible party," the group said in a statement following the incident in Albuquerque.
© Copyright IBTimes 2023. All rights reserved.