First Ferguson City Council Meeting Since Mike Brown Shooting Brings Rage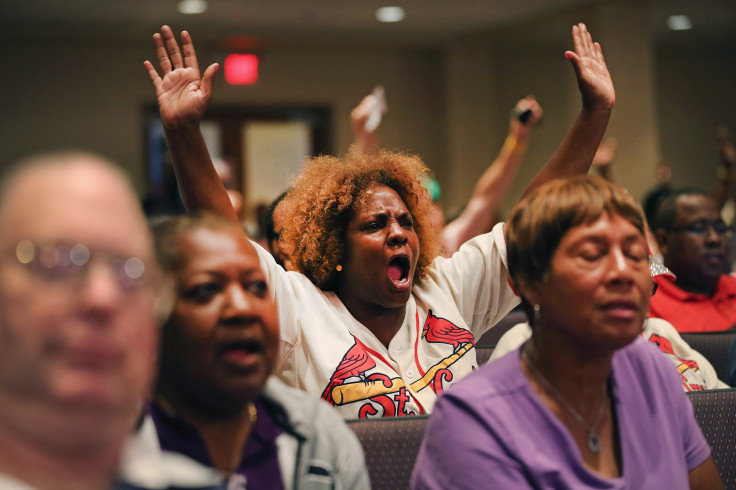 Tensions ran high Tuesday at the first city council meeting in Ferguson, Missouri, since unarmed black teenager Michael Brown was fatally shot Aug. 9. Nearly 600 Ferguson residents attended the meeting aimed at addressing concerns over the police shooting of Brown. Ferguson Police Officer Darren Wilson, who is white, hasn't been charged in the case.
As the Ferguson City Council shared plans to develop a citizen review board to help reform its police department and court procedures, the crowd vented their anger. "You've lost your authority to govern this community," John Chasnoff told officials, according to the New York Times. "You're going to have to step aside gracefully if this community is going to heal."
Residents also criticized the city's lack of diversity within the police force and at City Hall. The Ferguson Police Department is mostly white, while the small city of 21,000 people it serves is about two-thirds African-American.
"It's been a constant game of getting pulled over and getting fined," Terri Franks, a mother of three teenage sons said, adding that she travels for her job and couldn't make it to her sons' court dates, according to the St. Louis Post-Dispatch. "You guys don't answer the phone. It's impossible to ask for just maybe another court date."
Joshua Williams, 18, a Ferguson resident, said Wilson needs to be punished. "If Darren Wilson doesn't get justice, you might as well bring back the army, because it's going to be chaos," he said.
Brown, 18, was killed by Wilson, 28, after he put his hands up during an alleged altercation on a street in Ferguson, according to witnesses. Police said they had cause to shoot Brown.
After Brown's death, there were numerous protests around the nation, and unrest in Ferguson continued for weeks.
© Copyright IBTimes 2023. All rights reserved.