New Republic Editor Franklin Foer Quits Amid Differences With Publisher Chris Hughes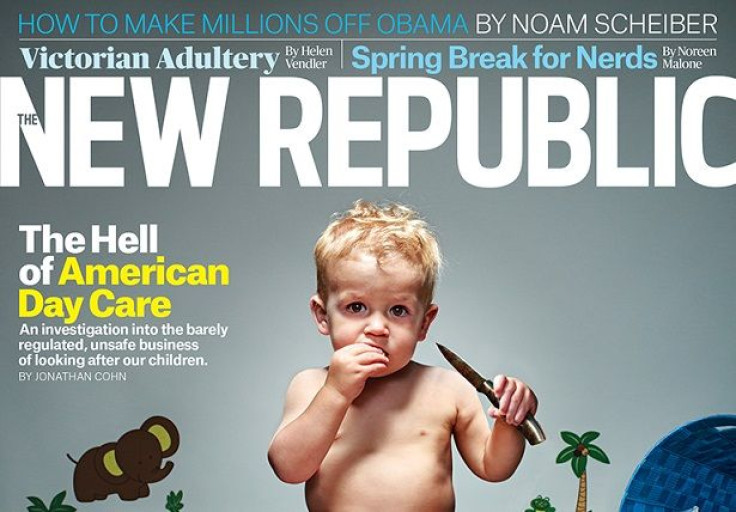 Following weeks of rumored conflict with management, the editor of the New Republic is out Thursday in a major shakeup at the 100-year-old bastion of liberal thought. Franklin Foer resigned from the Washington, D.C., publication, citing differences with Facebook co-founder Chris Hughes, who bought the magazine in 2012 and currently serves as its publisher.
Leon Wieseltier, the New Republic's literary editor for more than three decades who has outlasted many editors in chief, is also leaving, the New York Times reported.
Foer will be replaced by Gabriel Snyder, formerly of Bloomberg Media, the Atlantic and Gawker. Hughes is changing direction of the magazine along with another new hire, Guy Vidra, chief executive of the company and former executive at Yahoo News.
In an emotional memo to staff -- republished in full by Fishbowl DC -- Foer said he had fought to preserve the institution during his two-and-a-half-year tour of duty, but that his vision for the magazine differed from that of its top management.
"I've always had a hard time imagining leaving here. That moment, however, has arrived. Chris and Guy have significant plans for this place. And their plans and my own vision for TNR meaningfully diverge. I've decided this is the right time for me to finish a book that is several years overdue and to work on a few other projects. I will miss everyone here immensely."
The move is provoking strong reactions from the journalist Twittersphere, with some well-known journalists tweeting their resignations as New Republic contributors:
Foer was one of Hughes' first hires. The billionaire entrepreneur reportedly bought the magazine with aims of turning it into "New Yorker of D.C.," as Politico noted at the time. But now Hughes is changing its direction, ramping up the New Republic's digital strategy and moving its headquarters to New York.
The New Republic would do well to emulate another august print institution, the Atlantic, which has built out a sizable Web operation to complement the print magazine. That would seem to be an ideal project for Snyder, who worked at the Atlantic and launched its news aggregator, the Atlantic Wire (which shuttered in September after an unsuccessful rebranding effort).
Despite the Twitter backlash, Hughes does have his supporters. Earlier this year Ad Age's Michael Sebastian suggested the Facebooker has actually made the magazine relevant again, citing a growth in digital traffic -- and ad revenue -- since Hughes took over.
Christopher Zara is a senior writer who covers media and culture. Got a news tip? Email me here. Follow me on Twitter @christopherzara.
© Copyright IBTimes 2023. All rights reserved.