New Samsung Gear VR Headset Comes With Controller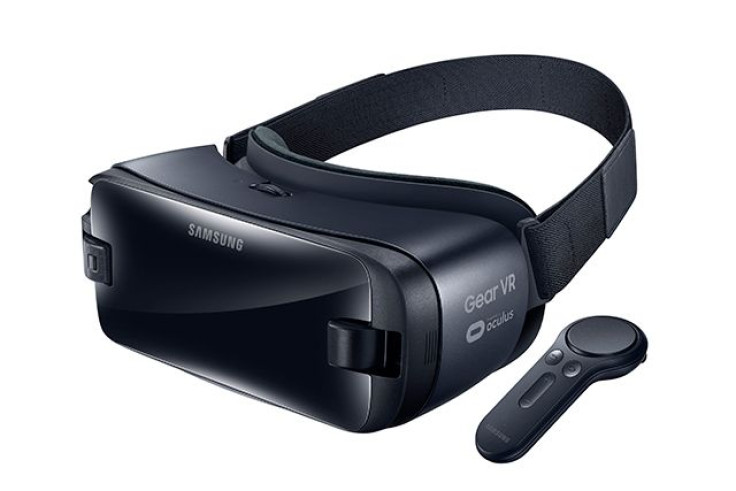 Samsung released its latest Gear VR--with a Controller powered by Oculus at the Mobile World Congress in Barcelona Sunday.
The bundle is Samsung's first headset with a controller, in an effort to boost the company's VR ecosystem and make gamers' experience "easier" and more enjoyable, Samsung said in a release. The black controller has a curved design and allows for one-hand control.
"We've been working closely with Samsung to improve our mobile VR platform with the latest advancements in VR input and interactivity—you'll be able to use your hand to point, drag and drop, tilt, shoot, and more," Oculus said in a blog post.
Here's what comes the Gear VR and Controller, explained by Samsung:
Various Motion Input for a Better VR Experience –The Touchpad provides quicker selection and interaction in VR apps, enabling various forms of motion, including the ability to point, drag and drop, tilt, shoot, among other actions, while the Trigger allows for enhanced gaming experiences.

Minimized Movement for Long-time Use –The Home, Volume and Back keys located on the Controller give users everything they need in easy reach so that they can keep their focus on immersive content.

A Secure Grip for Comfortable Play –Even during the most active movements, the Controller's wrist strap offers a secure grip for comfortable and secure play.
The bundle also features 42mm lenses with 101-degree FOV (Field of View) and advanced "distortion correction technology to minimize motion sickness," Samsung said. The Gear VR and Controller comes with a micro USB and USB Type-C port with a converter in-box. The headset also comes with a strap to hold the controller when it's not in use.
Gear VR Controller Features
The controller has integrated home, volume and back buttons, so gamers can easily move around content without breaking immersion, Oculus said. More than 70 Controller titles are under development and will be coming soon. Current touchpad apps will also work with the controller.
You don't need to charge the controller, you just need two AAA batteries, with a 1000mAh averaging two hours of daily use that could last for 40 days, Samung said. The latest Gear VR is compatible with the Galaxy S7, S7 edge, Note5, S6 edge+, S6 and S6 edge. The price and release date for the Gear VR and Controller is not yet known.
© Copyright IBTimes 2023. All rights reserved.