New Ukraine Political Crisis? Amid War With Russia, Economic Support Called Into Question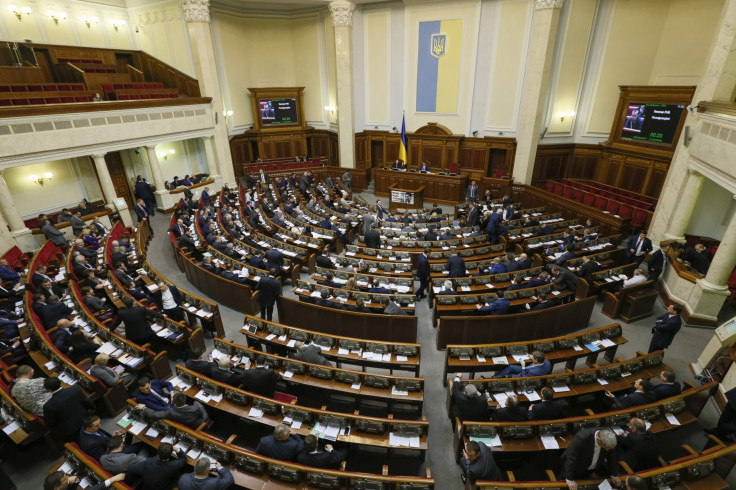 The head of Ukraine's Parliament said Thursday his country was entering another "serious political crisis," Agence France-Presse reported. The remarks come one day after the resignation of Ukraine's economic minister over claims of corruption and the blocking of reform efforts by allies of the country's president.
"This crisis must be resolved by political parties' representatives along with the president," said Volodymyr Groysman, the chairman of Ukraine's Parliament, Bloomberg reported. "We must update the coalition agreement as a clear plan to execute. We need to reshuffle the government for those tasks. We must end the squabbling and let those who want to conduct reform work and bring results for society."
Foreign ambassadors conveyed their disappointment Wednesday over the resignation of Economy Minister Aivaras Abromavicius and a source told AFP Ukrainian President Petro Poroshenko would meet with ambassadors from the Group of Seven countries. Poroshenko and his coalition came to power in May 2014 following the country's revolution, which ousted Moscow-leaning former President Viktor Yanukovych.
Ukraine's Western partners have repeatedly urged the country's politicians to stick to a transparent reform path tying monetary assistance to the implementation of reforms. The country again ranked as the most corrupt in Europe in a yearly survey conducted by the nongovernmental organization Transparency International. A survey by a local group indicates nearly one in five Ukrainians gave bribes last year, local media reported Thursday.
Ukraine's GDP Growth | FindTheData
"It is absolutely critical for Ukraine to root out the cancer of corruption. ... Ukraine is on the cusp — what happens in the next year is likely to determine the fate of the country for generations," U.S. Vice President Joe Biden said on a visit to Ukraine in December.
The International Monetary Fund along with the EU and U.S. were scheduled to give the Ukrainian government $4 billion in credits this month but it remained unclear if they will move forward with the deal. The latest political shake-up pushed Ukraine's currency to its lowest level since March 2015 as the country continues to deal with an ongoing war in the Donbass region that has pitted government troops against Russian-backed separatists.
© Copyright IBTimes 2023. All rights reserved.
FOLLOW MORE IBT NEWS ON THE BELOW CHANNELS