New Victim in Jerry Sandusky Case Claims Wife Ignored Cries for Help: Detailed Report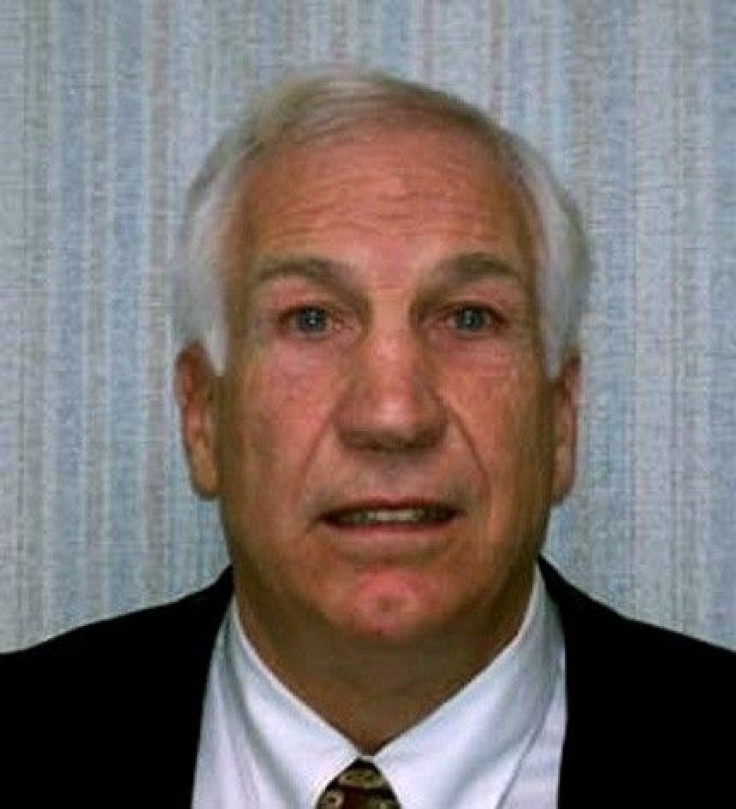 Two new victims, Victims 9 and 10, have come forward in the sexual harassment case against former Penn State defensive coordinator Jerry Sandusky. Pennsylvania police arrested Sandusky at his home on Wednesday following the new charges brought forward in a grand jury report.
In addition to outlining detailed sexual assaults on two new victims, the grand jury report also makes numerous references to Jerry Sandusky's wife, Dottie. One striking new finding is an incident where Victim 9 claims his screams for help were ignored even though he knew Dottie was in the home. Victim 10 said he rarely saw Dottie and that she was never in the basement where many of Sandusky's victims have alleged he sexually assaulted them.
Detailed Testimony from Victim 9
Victim 9 claims he first met Sandusky through the Second Mile Program, which he was a part of from 2004 to 2008. According to Victim 9's testimony, he first interacted with Sandusky when he was 11 or 12 years old. The two met at a pool activity at the Second Mile camp where Sandusky and the victim talked for a while before exchanging phone numbers. Sandusky then took Victim 9 to a number of Penn State University football games and gave him gifts and money.
Victim 9 spent many nights sleeping at Sandusky's home between the ages of 12 and 15 and was always told to stay in the bedroom in Sandusky's basement. He claimed to have barely any contact with Sandusky's wife who never came into the basement when Victim 9 was staying there.
I took it at first he was just a nice guy, like he went to church every weekend, his kids would come over every once in a while and stuff. And after a while, like, he got used to me and stuff and started getting further and further, wanting - to touchy feely, Victim 9 told the grand jury.
In the beginning, Sandusky started out with hugging, rubbing, cuddling and ticking, Victim 9 claimed. However, a pattern of sexual assault developed and Victim 9 said he was forced to perform oral sex on numerous occasions. Victim 9 also claimed that Sandusky attempted to anally penetrate him and at times succeeded.
Victim 9 stated that at least on one occasion he screamed for help, knowing Sandusky's wife was upstairs, but he said no one came to help him.
Sandusky and Victim 9 would also allegedly go to a hotel together where Sandusky would show him his erect penis and make him touch it or perform oral sex. Victim 9 said Sandusky told him he loved and cared for him, but also to keep their interactions a secret.
The grand jury report indicates that Victim 9 contacted police following the disclosure of Sandusky's arrest for allegations from the eight victims discussed in the initial grand jury report.
Detailed Testimony from Victim 10
Victim 10 joined the Second Mile Program in 1997 when he was 10 years old. He said he first interacted with Sandusky after his first summer in the Second Mile camp. Sandusky called Victim 10's mother and invited him to a Penn State football game in the fall of 1997.
Although Victim 10 never spent the night at Sandusky's home, he testified that he always spent time in the basement when he was at the home. Victim 10 said Sandusky would wrestle with him and during one wrestling interaction; Sandusky pulled down the boy's shorts and began performing oral sex on him.
Victim 10 said that during another interaction Sandusky had asked him to perform oral sex on him and Victim 10 had obliged. He also claimed Sandusky would cuddle with him and rub his hands all over the boy.
While playing in the outdoor pool on campus, Victim 10 said Sandusky would slide his hands underneath Victim 10's swim suit and touch his genitals before lifting him up to put him on his shoulders. This interaction occurred several times.
Like Victim 9, Sandusky also allegedly told the boy he loved him and bought him clothes and shoes.
Victim 10 testified that their relationship ended following an incident in Sandusky's car. While driving, Sandusky asked Victim 10 to perform oral sex on him. When Victim 10 refused, Sandusky was displeased. After the incident, Victim 10 told his mother he no longer wanted to interact with Sandusky.
Victim 10 came forward following the initial arrest of Sandusky.
Related article: Who Is Jerry Sandusky's Wife and Did She Know About the Penn State Scandal?
© Copyright IBTimes 2023. All rights reserved.