Next World War: Is US Considering Nuclear Attack After North Korea Missile Launches?
The United States has been preparing a response to North Korea's five ballistic missile launches conducted earlier this week that could include anything from sanctions to possible strikes against the reclusive nation's nuclear operations located near its capital city, Pyongyang. The country was considering a broad range of actions, making sure to note "we're not ruling anything out," Nikki Haley, the U.S. ambassador to the United Nations, said Wednesday.
"We are considering every option that's on the table," Haley said to reporters following a Security Council meeting at the United Nations headquarters in New York City. The meeting was called to address North Korea's latest missile tests, all of which defy sanctions previously placed on the country by the international group of governments.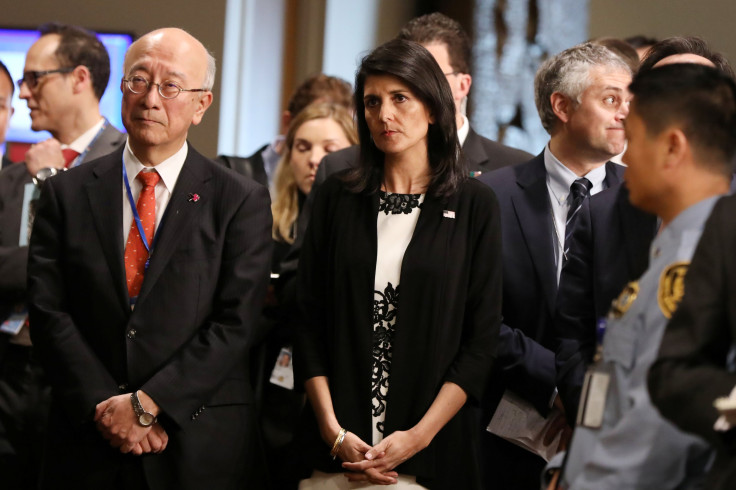 Haley noted the United Nations must follow through on previous sanctions already enacted against the North and take its global threats to South Korea, Japan and other nations – including the U.S. – much more seriously.
Meanwhile, the ambassador refused to answer questions – or respond to a New York Times report published Saturday – purporting the U.S. was considering attacking North Korean nuclear missile sites.
"The global community needs to understand every country is in danger from the actions of North Korea," Haley said Wednesday. "We are not going to leave South Korea standing there with the threat of North Korea facing them and not help."
North Korea has repeatedly acted out against sanctions placed by former President Barack Obama's administration and the United Nations, seemingly increasing its military and nuclear operations since President Donald Trump took office Jan. 20. The North launched a ballistic missile into the sea near Japan while Japanese Prime Minister Shinzo Abe was dining with Trump at his luxury Florida estate, Mar-A-Lago.
The U.S. responded by increasing its joint-military exercises in the neighboring South Korea. Now, a potential resolution China proposed Wednesday calls on the U.S. and South Korea to suspend those operations, in exchange for North Korea's full stop of its nuclear and ballistic missile programs.
Haley was adamant that wouldn't happen anytime soon, however.
"We always notify North Korea before they happen. We're very transparent, we're very open," Haley said. The ambassador told reporters the U.S. would need to see "some sort of positive action taken by North Korea before we can ever take them seriously."
© Copyright IBTimes 2023. All rights reserved.