NFL London Ticket Sales: $32M Revenue From Wembley Stadium Sellout Crowds, Report Says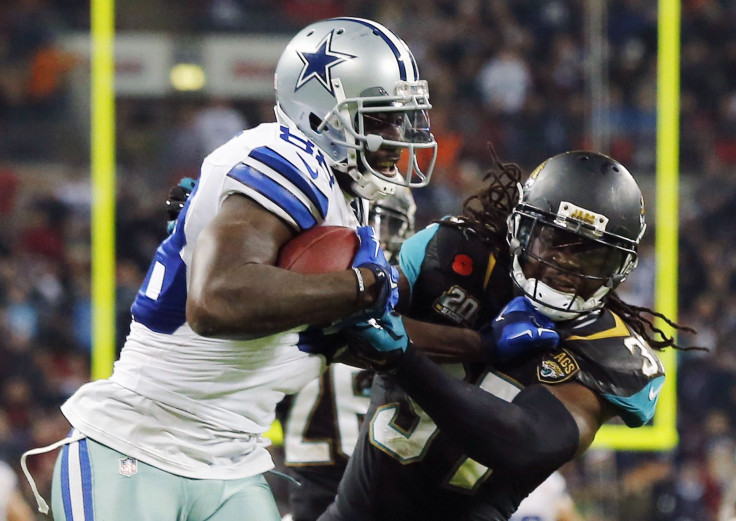 The National Football League's three games in London so far this season have produced about $32 million in ticket revenue. Sunday's clash between the Jacksonville Jaguars and the Dallas Cowboys was the most lucrative game yet, with a sellout crowd of 83,603 fans producing $10,617,581 in ticket sales, Peter King of Sports Illustrated reports.
The average Cowboys home game at AT&T Stadium has drawn an average of 89,536 fans this season. However, the Jaguars played in front of a Wembley Stadium crowd in London that was far bigger than the average crowd at EverBank Field. Jacksonville currently ranks 21st in the league in attendance, with an average of 63,443 fans at its first four home games this season, a figure that amounts to 94 percent of EverBank Field's 67,297 capacity.
Moreover, the Jaguars' ticket revenue from the London "home game" would have more than doubled its revenue in Jacksonville. The average ticket to Sunday's game cost 80 pounds, or $127, while the average ticket to a home game in Jacksonville costs about $58. Thus, a sellout at Wembley Stadium could produce revenue of about $6.7 million more than a sellout at EverBank.
The NFL announced Nov. 6 that it would return to London for three games during the 2015 season. For the third straight year, the Jaguars will be one of the six teams slated to appear in the league's international series.
"We are very appreciative of the outstanding support from our fans in the U.K., not only for the games at Wembley but for all of the related NFL events we have hosted throughout the city," NFL Executive Vice President of International Mark Waller said at the time. "We believe we have a great 2015 schedule that will continue to attract new fans to our sport and strengthen the bonds with our existing fans. To provide U.K. fans the opportunity to see games on consecutive weekends, to see new teams, and to attend a division game, which feature some of the most passionate rivalries in our sport, are signs of the growth and depth of our U.K. fan base."
NFL Commissioner Roger Goodell is intent on the league's overseas expansion, and multiple reports have named the Jaguars as the franchise most likely to move to relocate to London. Team owner Shahid Khan, who also owns the English Premier League's Fulham Football Club, denied Saturday that he planned to move the team.
"Put two and two together, you're welcome. Speculate away, but we have no plans to move at this time," he told the Independent. "The Dallas Cowboys are 'America's Team,' but they play in Dallas. Why can't we be the London Jaguars based out of Jacksonville? The Jaguars are the smallest [NFL] club and we needed more fans. Going overseas has been a win-win. There is demand for NFL football here, and we can help with that."
© Copyright IBTimes 2023. All rights reserved.