NFL Mock Draft 2012: Best Expert Websites for Draft Predictions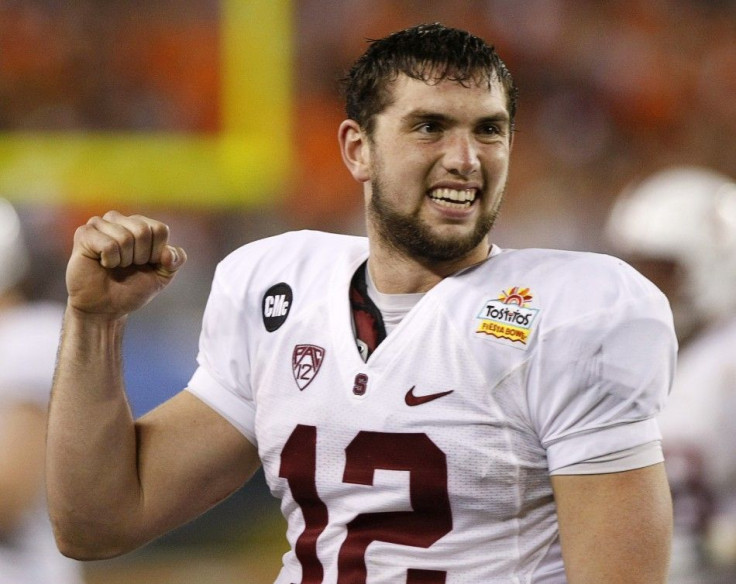 The 2012 NFL Draft is only six days away which means football's foremost experts are doing their best to try to break it all down with mock drafts.
The good thing for experts is that the top three picks have been basically set in stone. Stanford quarterback Andrew Luck revealed to the press earlier this week that the Indianapolis Colts have promised to take him with the first pick in the draft.
With Luck out of the way, the Washington Redskins will take Baylor quarterback Robert Griffin III with the second pick. The Redskins traded a lot to move up to the second pick - three first-round picks and a second-round pick - in order to get a chance to draft the Heisman winner.
After Luck and Griffin, the Minnesota Vikings are expected to draft USC offensive tackle Matt Kalil. There has been some talk about the Vikings possibly trading the pick to a team looking to move up to draft Texas A&M quarterback Ryan Tannenhill, but most expect the Vikings to tab Kalil to be their left tackle of the future to protect quarterback Christian Ponder.
At pick No. 4 is where things get particularly interesting, but we'll let you check out the predictions from these experts rather than go further.
Here is a list of the best 2012 NFL Mock Draft websites, in no particular order, to read up on ahead of the draft on April 26th:
1) SI.com
Sports Illustrated boasts two of the NFL's most knowledge experts with Don Banks and Peter King. The two update their mock drafts frequently and have proved to be quite accurate in past years. You can read King's here and Banks' here.
2) Rotoworld.com
Rotoworld is better known for its fantasy analysis, but boasts a strong draft expert in Evan Silva. Silva is active on Twitter in relaying the most up-to-date NFL Draft news and has put together a strong mock draft here.
3) SportingNews.com
Sporting News' best days might be behind it, but Russ Lande still does a fantastic job with the NFL Draft for the magazine.
4) CBSSports.com
Dane Brugler and Rob Rang handle the mock draft coverage for CBS Sports. The popular sports website offers an easy side-by-side mock draft compilation for fans to check out.
5) NFL.com
Similar to CBS Sports, NFL.com does a very nice job in putting all of its experts' mock drafts in one place for fans to check out. NFL.com features the expert analysis of NFL Networkers Steve Wyche, Charley Casserly, Charles Davis, and Albert Breer - giving you four expert mock drafts to check out all in one spot.
6) The Big Lead
The Big Lead's Jason McIntyre is more a jack-of-all trades than an NFL Draft expert, but he is active in putting together mock drafts. He's an avid football fan and offers some interesting analysis on the first round.
WalterFootball might put together the most comprehensive of all of the mock draft websites. Not only does the website do an amazing job of compiling the hundreds of mock drafts available on the Internet, but also offers mock drafts that go seven rounds deep.
This website is a comprehensive one-stop shop for all of the latest NFL news, including draft buzz. Wes Bunting handles mock draft duties and goes a nice job in offering some in-depth analysis lacking in other mock drafts.
9) Fox Sports
This national sports website utilizes the services of Peter Schrager for its mock draft predictions. Schrager goes over the top three rounds in his analysis.
10) Your local beat writer
This is a bit of a sell-out, but some of the best analysis comes from your local newspaper beat writer. That could mean the New York Post or the Milwaukee Journal-Sentinel or even the Houston Chronicle, but the hometown paper of a football team could offer some unique analysis that other national websites won't have.
© Copyright IBTimes 2023. All rights reserved.