NFL Picks 2016: 5 Best Bets Against The Spread For Week 3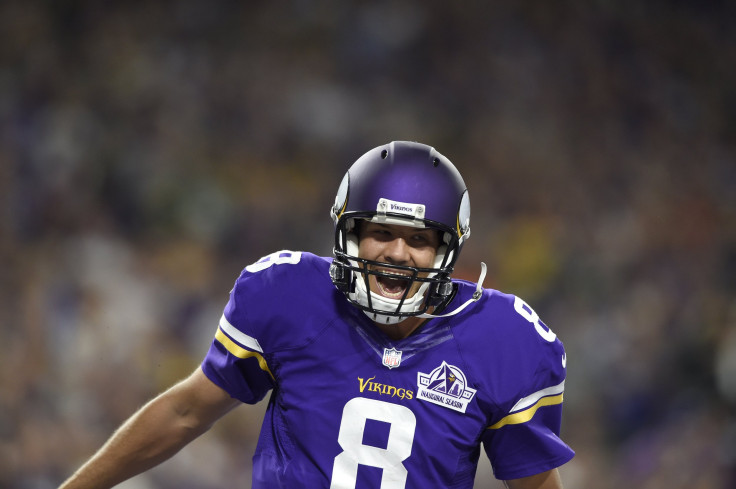 Underdogs have had more success than favorites in the 2016 NFL season, and some of the league's best teams are getting points in Week 3. Three of the top Super Bowl contenders are not favored in their upcoming matchups, including one that's playing at home.
Some of the schedule's point spreads have seen significant changes over the past few days. The New England Patriots began Week 3 as 2.5-point underdogs, though the betting line for "Thursday Night Football" has since changed at Las Vegas sportsbooks. Last year's Super Bowl winners are also getting points as they face one of the AFC's best teams.
There's no such thing as a "sure thing" when it comes to gambling, but here are the five best bets for Week 3 of the 2016 NFL season:
New England Patriots (+1)
The Patriots continue to look like the NFL's best team, even with Tom Brady out until Week 5. Not much is known about Jacoby Brissett, the rookie quarterback who'll start against the Houston Texans on Thursday night, but it doesn't make much sense for New England to be underdogs at home.
With maybe the best pass rush in the league, the Texans could give Brissett and New England's offense a lot of trouble. But Bill Belichick has proven that he can put any quarterback in a position to succeed, and Thursday should be no different. Jimmy Garoppolo is clearly talented, but Belichick has helped him perform like an All-Pro this season. Rob Gronkowski could potentially make his season debut, giving Brissett the best weapon in football. Even if the Patriots' offense has trouble putting up points, the defense should be able to contain Brock Osweiler and Houston's offense.
Minnesota Vikings (+7)
It won't be easy for the Vikings to win on the road against the Carolina Panthers. Minnesota has been ravaged by injuries, and they're visiting a team that's won 14 straight home games. But the Vikings are one of the best teams in the NFC, making them an easy choice as such heavy underdogs.
The Vikings will lose very few games by more than one score in 2016, and they've been defeated by more than a field goal in just three of their last 25 games because of their elite defense. Minnesota ranks in the top five in both yards and points allowed through two games, despite facing arguably the league's best quarterback. Sam Bradford might not play as well as he did in Week 2, but he was terrific in his Vikings debut. Minnesota has gone 2-0 without any production from Adrian Peterson, and they can still keep things close on Sunday without the injured running back.
Oakland Raiders (+1.5)
There's a lot of value in grabbing the points for the Raiders' road game against the Tennessee Titans. Oakland was a 1.5-point underdog in their season-opening visit to New Orleans, who is probably better than Tennessee. The Raiders defeated the Saints in Week 1, and they should beat the Titans in Week 3.
Oakland looks to be one of the NFL's best offensive teams. They rank first in yards and third in points scored, and the Raiders should be able to move the ball against Tennessee. Oakland's defense hasn't been up to par, but that might not be a problem against the Titans, who have scored just 16 points in each game. Tennessee is coming off a road win, but they defeated an unimpressive Lions team, and things should be different when they face a playoff contender on Sunday.
Denver Broncos (+3.5)
With the betting line moving beyond three points, Denver is a safe pick in their road game against the Cincinnati Bengals. The Broncos appear to be just as good as they were when they won the Super Bowl last year, and they've got a good chance to win outright in Week 3.
Denver's defense continues to be the NFL's best. After putting pressure on Cam Newton for most of the season opener and making life difficult for the reigning MVP all night long, the Broncos held Andrew Luck to less than 200 yards passing and scored two defensive touchdowns. Andy Dalton should have similar struggles on Sunday, and if the Bengals win, it'll be in a close, low-scoring game. Trevor Siemian could be forced into some mistakes by a good Cincinnati defense, but the quarterback has yet to blow a game for Denver thus far.
Source: PointAfter | Graphiq
Seattle Seahawks (-9.5)
After a close win over the mediocre Miami Dolphins and a loss against the lowly Los Angeles Rams, the Seattle Seahawks could fail to reach expectations in 2016. But after four straight playoff appearances with most of the same players, it's hard to believe that Seattle isn't still an elite team, and they'll prove it when they host the San Francisco 49ers.
No team has been victimized by Seattle's four-year run more than San Francisco. The NFC West rivals have met nine times since 2012, and the Seahawks have covered the spread in every game. The 49ers are one of the NFC's worst teams, and they were dismantled by 19 points in their visit to Carolina last week. Seattle's defense has only allowed one touchdown this season, and their struggling offense should have it's best game on Sunday as Russell Wilson's injured ankle continues to heal.
Season Record: 4-6
© Copyright IBTimes 2023. All rights reserved.